Two men, accused in a violent and brazen jewelry store robbery in San Diego's Fashion Valley Mall, also face charges in a heist at Barona Casino.
Defendants Robert Chavira and Ryan Alan McKnight listened Monday as a judge read through the list of charges they face in connection with a series of jewelry store robberies across California as well as a brazen casino heist in San Diego's East County.
Surveillance images submitted as evidence at a pretrial hearing show two men in black hoods smashing glass cases with sledge hammers to steal Rolex watches from a mall near San Jose.
When a similar robbery occurred at Fashion Valley on Sept. 16, a car was driven on mall property just before the crime occurred.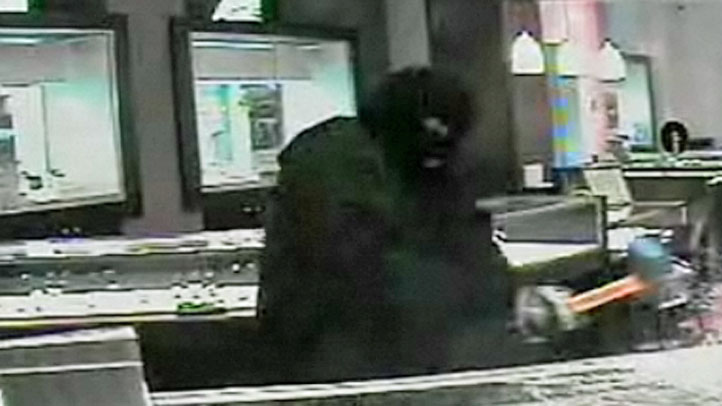 An investigator testified Monday that McKnight's former girlfriend identified the defendant by his body type from the surveillance video.
She also noticed the defendant had injured his hand on Sept. 16, telling officials "a chunk had been taken out of his knuckle."
Investigators noticed suspects in a series of jewelry store robberies targeting Ben Bridge Jewelers in San Jose, Palm Desert and Costa Mesa used similar sledge hammers and weapons.
When four men, armed with guns, robbed Barona Casino on November 9, they smashed a large glass display and got away with about $3,000.
Chavira and McKnight were arrested a day later riding in a car driven by Chavira.
Both McKnight and Chavira were on active parole at the time and were arrested and booked into county jail for parole violations.
More than $1 million in Rolex watches were uncovered in December inside one of the suspect's Park West apartments according to investigators. One Rolex with diamonds on the face is estimated to be valued at $64,000.
Detectives also recovered assault weapons and police gear, including a fake badge officials said.
Follow NBCSanDiego for the latest news, weather, and events:iPad App | iPhone App | Android App | Facebook| Twitter | Google+ | Instagram | RSS | Text Alerts | Email Alerts
Published at 2:36 PM PDT on May 7, 2012 | Updated at 9:57 AM PDT on May 8, 2012