The military provided several helicopters to help battle a lightning-sparked brush fire that threatened the town of Ranchita in San Diego's East County.
San Diego County Sheriff's Deputies issued a mandatory evacuation order Tuesday for the 288 residents of the community just north of Scissors Crossing.
Keep up to date: sign up for our breaking news e-mail alerts
The Wilson Fire was spreading in a northerly direction in the Grapevine Canyon, toward Ranchita according to Cal Fire.
Firefighters say the biggest challenge is the weather. Winds have picked up some and the region continues to experience high temperatures and humidity.
Cal Fire said there is also a substantial risk of thunderstorm downdrafts. As storms pass over the fire area, officials said the winds have the potential to cause extreme fire behavior and challenge the control lines.
Completing the fire line in the rocky terrain has also taken firefighters longer than expected, officials said Thursday.
As of 6:30 p.m. Friday, all five fires in the Vallecito Lightning Complex had scorched 22,828 acres, according to Cal Fire.
By 7:30 a.m. Saturday, officials reported that the fires were 100 percent contained.
Officials said no further acreage increases are expected and the fire spread has ceased. Weather conditions Friday brought higher humidity and slightly cooler temperatures, which proved beneficial to fire crews.
Cal Fire said clean-up and patrol operations would continue in the area overnight. A heavy demobilization of resources is expected now that the fire is under control.
The group of fires in the Vallecito Lightning Complex includes the Wilson Fire, Stewart Fire and Cooper Fire located near Scissors crossing, the Wynola Fire and the Vallecito Fire that burned southeast of Julian. Click here for incident map
Officials said the Wilson Fire has burned 11,669 acres and is 90 percent contained while the Stewart Fire has burned 10,632 acres and is 95 percent contained. On Wednesday night, officials said the two fires were close to merging.
Because there are so many fires statewide, Cal Fire initially said they were not getting all the resources they needed.
Jeff Ohs, the Batallion Chief in the City of Long Beach is working the Vallecito Lightning Complex as one of Cal Fire's Branch Directors.
Ohs said there are two teams on the Wilson Fire. More than 100 people working on the Ranchita Branch are handling homes and structures. More than 300 people on the Wilson Branch are working fire suppression.
The 3rd Marine Aircraft Wing will provide eight helicopters, a mix of CH-53 Super Stallions and CH-46 Sea Knights, for use with Cal Fire.
Resident Bill Harrington saw the Wilson Fire was about a mile and a half from his house and moving west.
Harrington said it looked like it was going to burn Ranchita. Even so, Harrington is choosing to stay.
"We're pretty tough out here in Ranchita so you can't let a little fire scare you," he told NBC 7.
A Reverse 911 call was sent around 4:30 p.m. Tuesday informing residents of the mandatory evacuation order.
"As we came up the mountain we could see the fire cresting over the hill," said Borrego Springs resident Jessica Nehrer. She captured an image of the fire along the mountain ridge.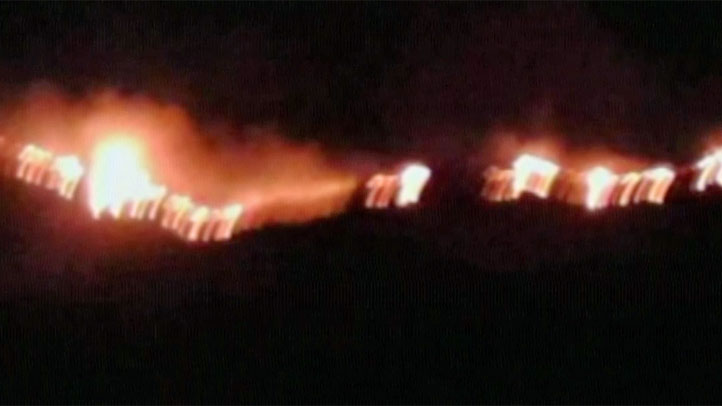 Several roads were also closed in the Scissors Crossing area and the San Felipe area.
Highway 78 was closed Wednesday between Scissors Crossing and Borrego Springs, S3 was closed between Scissors Crossing and Borrego Springs and S22 was closed between S2 and Borrego Springs according to Cal Fire.
By 1 p.m. Thursday, Highway 78 was re-opened however S2 between Scissors Crossing and Highway 79 remained under hard closure, officials said.
As of 6:30 p.m. Friday, however, officials said all roads in the fire area had been reopened.
An evacuation center was set up at Warner Springs High School at 30951 California 79 in Warner Springs during the course of the Vallecito Lightning Complex fires.
Residents with large animals evacuated due to the fireswere invited to take their animals to Creek Hollow Ranch in Ramona, 25279 Creek Hollow Drive. Anyone who needs assistance evacuating their animals should call Animal Services at 619-236-2341.
Follow NBC7 for the latest news, weather, and events:iPad App | iPhone App | Android App | Facebook| Twitter | Google+ | Instagram | RSS | Text Alerts | Email Alerts