After several days of strong, El Niño-driven storms, the rain will clear out and give way to some sunshine in San Diego County Friday – but more showers are expected this weekend.
According to NBC 7 meteorologist Jodi Kodesh, there was a 10 to 20 percent chance of sprinkles through 10 a.m. in coastal and inland areas.
"We're not looking at a big rain event, by any means, today. There's no Friday storm system for the first time in a while," she explained.
Icy, Snowy Conditions in Local Mountains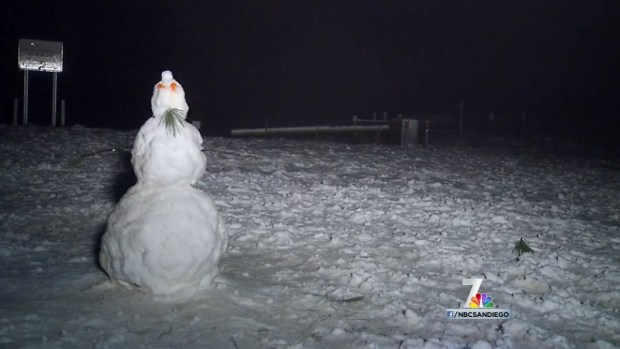 By around noon, the chances of rain will drop even more and locals will see a mix of sun and clouds at the coast and inland, with temperatures in the upper-50s. It will be windy in parts of the county, too.
"We'll have some sunshine – but still not very warm. After 10 a.m., you just won't need that umbrella," Kodesh added.
In the mountains, in those higher elevations, the chance of Friday showers is higher. Kodesh said some mountain areas, including Mount Laguna, may get some snow flurries to add to the 12 to 15 inches of fresh snow that has fallen this week.
Those who plan to make a trek to our snowy, local mountains should follow these tips for a safe trip. Remember, chains are required for vehicles on the icy, slick roadways.

Storms Give Way to Spectacular Rainbows
As of 6:45 a.m., the National Weather Service (NWS) only had one warning in effect for San Diego County: a high surf warning, in place through 10 p.m. Friday.
The NWS said waves were five to nine feet throughout Friday morning, with sets to 12 feet. The tides will be the highest at 7:30 a.m., coming in at about seven feet.
Heavy Rains Prompt Flooding, Damage Across San Diego County The waves will subside to four to seven feet later in the day, according to the NWS.
The high surf could lead to beach erosion, strong rip currents and coastal flooding during high tide as battering waves pound the shoreline. Swimming conditions are dangerous and there is a lot of runoff from recent rain in the ocean, so it's best to stay out of the water.
Due to high surf, the Ocean Beach Pier remained closed Friday, the San Diego Fire-Rescue Department (SDFD) confirmed. Officials said the popular pier sustained minor damages in the storms and high surf, San Diego Lifeguards will keep the pier closed until repairs are completed.
Though showers appear to have cleared for now, another smaller storm system is likely to move in this weekend, beginning Saturday evening.
Kodesh says that system will bring rain and a chance of showers into Saturday evening and Sunday morning, but not a massive storm like the wild weather San Diegans experienced this week.
Kodesh said the storms this week soaked the county. Below is a table showing total rainfall measurements across the county as of 4 p.m. Friday, according to the National Weather Service.
To see a complete list of rainfall totals in every area, click here.