The wife of an Oceanside fisherman who went missing during an ill-fated boating trip made a tearful statement Thursday on the disappearance of her husband and the end of the extensive search for his body.
"I wish he could've been found, but that was not to be," said Susan Ruden in front of her Oceanside home, accompanied by her three children. "Loren loved the ocean and he loved being on his boat. Our children, our family we all love him very much and we'll miss him. Anyone who knew him will miss him as well."
Loren Ruden, 53, has been missing at sea since Monday. Officials say the avid boater launched from the Oceanside Marina around 11:30 a.m. three days ago, along with his dog, Sadie (pictured below).
Sadie was found later that day sitting on the beach just north of the Oceanside Pier. A passerby called the phone number on Sadie's dog tag, reaching Ruden's wife and setting the search for the missing man in motion.
The U.S. Coast Guard and FBI, along with Oceanside Police and Harbor Police, led the charge in the extensive search for Ruden, which spanned more than 2,100 square nautical miles along the California coastline.
On Tuesday, Ruden's 21-foot Striper, which he named "Lucky Dog," was found 10 miles northwest of La Jolla traveling in circles at idle speed with no one aboard.
No trace of Ruden was found near the boat.
On Wednesday, NBC 7 spoke with Ruden's sister, Angie Richards, about the search. Richards made an emotional plea to the San Diego community to help find her brother, begging boaters to get on the water and help search for Ruden.
By 7 p.m. Wednesday, U.S. Coast Guard officials announced they were suspending the search for the missing fisherman. The Coast Guard called it a "difficult decision" and sent deep condolences to the Ruden family.
On Thursday, Susan said she was overwhelmed by the support from officials and the local community in the search for her missing husband.
"I want to express my gratitude to everyone for their extraordinary efforts and personal sacrifices in searching for Loren," she said. "The commitment and dedication made by Oceanside Police, Harbor Police, Lifeguards, FBI and of course the Coast Guard were truly remarkable."
"I also want to thank those who went out on their own boats to help in the search. Lastly, I want to thank my family, friends, neighbors, co-workers and the communities of Oceanside and San Diego for all their love and support."
As she spoke, Susan was comforted by her children: Maggie Ruden, 24; Sarah Ruden, 23; and son Anders Ruden, 21.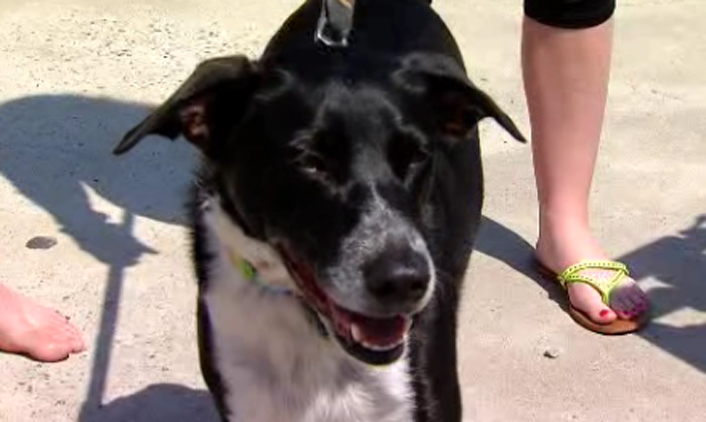 Their beloved family dog, Sadie – a 4-year-old Border Collie Labrador mix -- was also by their side, staying close to the family. The dog – the last member of the family to see Ruden alive – was in good health.
The family confirmed Sadie jumped or fell overboard on Monday and then either swam or floated to the shore in Oceanside, where she was found by a passerby.
Susan said a public memorial gathering for Ruden will be held at 10 a.m. Saturday at the north jetty at the Oceanside Harbor. She said anyone is welcome to attend the event.
NBC 7 also spoke with the family's neighbor, Keith Stover, who said Ruden will be remembered as a great, down-to-earth man and dedicated father.
"[Loren] was always very gentle and industrious – always working real hard. He was always working on boats, cars – working in his yard every day. He raised his kids – he's a stay-at-home dad. You couldn't ask for a better neighbor," said Stover. "He was always going out on his boat and had his dog with him continuously. He was just a great guy."
Stover said Ruden and his dog shared a close bond and seemed inseparable. If either Ruden or Sadie ran into trouble aboard the boat on Monday, Stover believes they would've done anything to try to save each other in the water.
Published at 4:30 PM PDT on Sep 12, 2013 | Updated at 6:20 AM PDT on Sep 13, 2013