Airport officials in San Diego said there are several delays and cancellations in and out of Lindbergh Field due to the shooting at nearby Los Angeles International Airport.
Watch Live: NBCLA Coverage of LAX Shooting

A gunman was in custody after three people were injured in a shooting at a TSA security checkpoint, NBC News reports.
Officials say a gunman opened fire in Terminal 3, then shot his way past security and was well inside the airport when he was taken into custody.
Witness Brian Keech told the Associated Press he heard "about a dozen gunshots" from inside the security gate at Terminal 3.
A live feed from NBCLA's helicopter showed a TSA agent with bloodied clothing and another man in a wheelchair gripping his leg being escorted by police officers outside the airport after 9:30 a.m. Friday.
A third man was loaded into an ambulance by emergency crews.
TSA spokesperson Nico Melendez told NBCLA a TSA employee was shot in the leg where the agents take documents and passengers provide their boarding pass.
Airport officials would not confirm some media reports that the shooter was a federal employee saying the investigation is being handled by the FBI.
Emergency personnel treated 7 injured people and transported them to 6 nearby hospitals, officials said.
Carlsbad Resident Nick Sherrill was at LAX as he prepared to travel to Beijing on a trip for his MBA program. He snapped several photos of airport officials and police officers responding to the shooting including the one pictured right.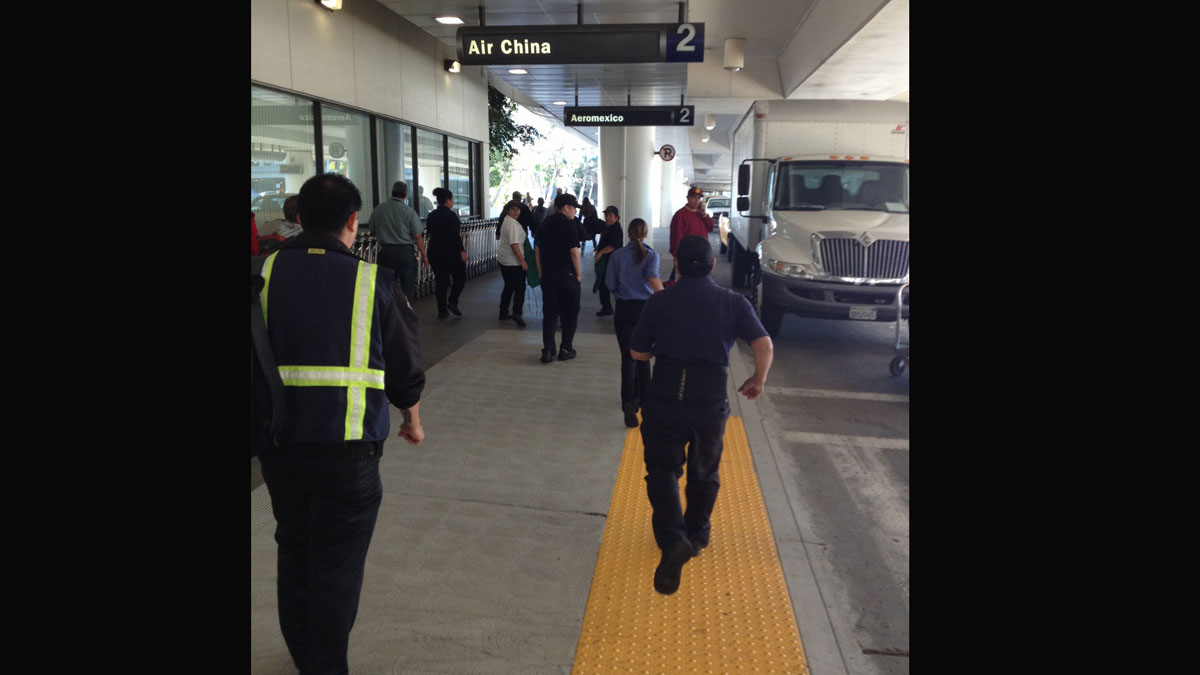 He was traveling between terminals when everybody was ushered out of the building.
"No one was giving us direction or a reason as to why," said Sherrill.
Officials told him to stop taking photos, Sherrill told NBC7.
The FAA has stopped flights preparing to take off for LAX.
At LAX, roads near the airport were closed for the investigation. As incoming flights landed, they were subjected to a ground-stop order.
Sherrill was told security was going to sweep the terminal. Once that's complete, they may allow passengers back in to catch their flights.
Flight operations at Lindbergh Field were affected.
Two flights were cancelled and 10 other flights were delayed due to the ground stop at LAX.
If any changes were needed, San Diego airport officials would announce them through media updates.