Raging flames ripped through a commercial building in Miramar Saturday morning, sending plumes of thick smoke into the air as clouds sprinkled showers from above.
The fire sparked at around 7:45 a.m. at a complex off Carroll Road, near Kenamar Drive, that is home to several businesses. Unrelenting, bright orange flames could be seen through the windows of Quest Building Products, a business that supplies construction equipment. Smoke stemmed from the roof.
Flames Rip Through Miramar Business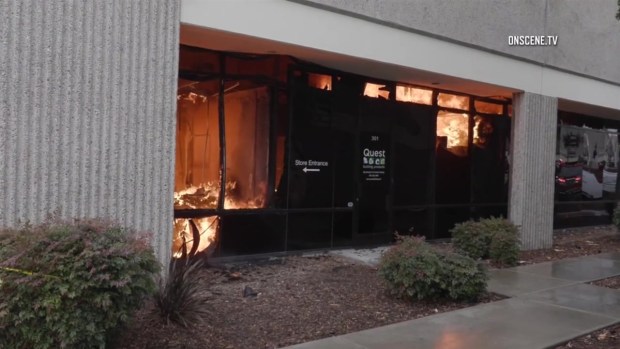 "It was a construction [and] concrete supply building with an RV motorhome inside the building," said San Diego Fire-Rescue Department (SDFD) Deputy Fire Chief Steve Lozano.

The severity of the fire prompted SDFD officials to upgrade the response and request additional engines at the scene.
Lozano said the third-alarm fire was battled by more than 60 fire units.
Brian Burling, who owns a neighboring business, heard about the fire and rushed to the complex.
Lots of smoke showing from a fire in an industrial area of Miramar #SanDiego#NBC7pic.twitter.com/bmvBlZVbMP

— Ramon Galindo (@RamonGalindoNBC) March 17, 2018
"I was worried it was my business but same complex, different building, so I think we're okay," Burling said. "It was a stressful, stressful drive the last five minutes or so. We got lucky, but it's not a good feeling any way you look at it."
Eventually, firefighters were able to gain the upper-hand and knock out the blaze. No one was hurt. The cause of the fire is under investigation.
Hours later, dozens of firefighters remained at the scene monitoring hot spots and hosing down the building.