What to Know
The McStay family of Fallbrook were last heard from or seen on Feb. 4, 2010.

On Feb. 15, the family was reported missing to the San Diego County Sheriff's Department.

Homicide investigators search the family's home on Avocado Vista Lane and found no sign of a struggle.
With the sound of a sledgehammer whacked onto a courtroom table, the prosecutor in the McStay family murder trial told jurors the killing of the defendant's former business partner and his family was intentional and motivated by greed.
"It was blow, after blow, after blow to a child's skull. A 3 year old and a 4 year old," San Bernardino County Deputy District Attorney Britt Imes said. "That's an intentional killing."
Deputy DA Describes McStay Family Killings to Jury in Closing Arguments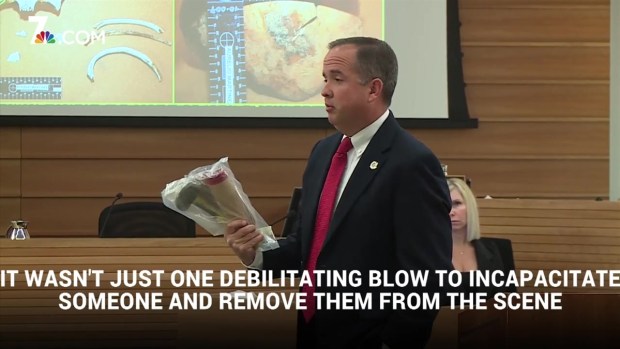 Jurors are hearing closing arguments in the five-month trial focused on the disappearance and killing of the Fallbrook family.
Charles Merritt, now 62, is charged with killing Joseph and Summer McStay along with their 3- and 4-year-old sons. The family's disappearance in 2010 perplexed investigators for years.
Charles Merritt Used Past Tense in Police Interview When Discussing McStay Family
Joseph McStay was running a water features company that designed waterfalls and other projects that included custom installs performed by the defendant.
Merritt was being sidelined in the business before the family's disappearance, prosecutors said. Then, three days before the family vanished, he received an email from Joseph McStay saying he owed the company thousands of dollars.
After that, as of Feb. 4, 2010, there was no phone activity, internet, email, bank, credit card activity from the family.
Security camera video from a neighbor was entered into evidence. Prosecutors said the video showed a passing vehicle which a prosecution witness used 3D animation to enhance and show that vehicle was Merritt's truck.
It wasn't until November 2013 that the family was found dead, buried more than 100 miles away in a remote area of San Bernardino County, along with a 3-pound sledgehammer and a child's pants and diaper.
Summer McStay was found with a broken jaw. Joseph and his sons were found with fractured skulls.
Merritt was arrested the following year.
Imes told jurors there can be a murder case without answering where, when and how someone was killed.
Prosecutors also accused Merritt of stealing thousands of dollars by hacking McStay's electronic bank account.
The defendant forged and cashed checks after the McStays disappeared and he owed thousands of dollars in overpayments from the company as stated in an email sent just days before the family disappeared, the prosecutor said.
"He had a motive to erase the debt," Imes said.
Merritt's defense countered with accusations that prosecutors lied in closing arguements. His attorney said Merritt left multiple messages with McStay about their business accounts.
The case rattled Southern California residents for years before the family's remains were discovered in shallow graves in the desert.
Alerted by relatives of the Fallbrook family, investigators began looking into their whereabouts and discovered the family's SUV had been towed from a parking lot in San Ysidro.
Surveillance footage in the area showed who officials believed to be the McStays walking into Mexico.
Merritt pleaded not guilty to the charges. Once his defense attorneys finish their closing statements, prosecutors will have a chance to give a rebuttal.
If convicted, Merritt could face the death penalty.