Cathedral Catholic High School held a special mass for a basketball coach's family injured in a wrong-way crash.
Coach Will Cunningham's wife Alisa and the couple's three children were injured when their minivan was struck head-on by a driver traveling the wrong way on State Route 52 Sunday night. Seventeen-year-old Taylor Cunningham, a student at CCHS, was seriously injured in the crash.
Matthew T. Leonardo, 30, of Santee was killed in the crash. California Highway Patrol investigators say Leonardo was driving the wrong way on the highway moments before the crash. Officials are investigating whether Leonardo was driving under the influence.
Alisa Cunningham, a softball pitching coach, and the children were treated by firefighters and quickly transported to area hospitals.
A school spokesperson said Alisa was conscious and recognizes her husband. Taylor was in a coma Tuesday and had responded to a finger prick the spokesperson said.
"Taylor has an exuberant personality, well loved by everyone here at Cathedral, by her teachers, by her peers," said Kimberly King, Cathedral Catholic High School Director of Communications.
"Everybody knows who Taylor is, and she's a fighter and she's gonna make it through," King said.
A 10-year-old daughter was scheduled for surgery while a 12-year-old son was expected to be released from the hospital according to King.
On Tuesday, students, parents and teachers gathered in the school gym in Carmel Valley for a unique mass.
The basketball team from Saint Augustine in North Park, considered a rival of Cathedral Catholic, also attended.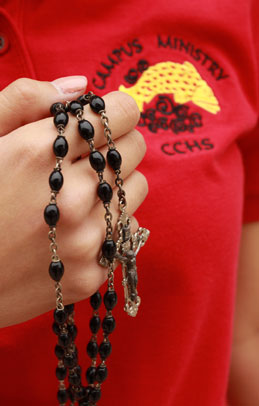 Parents of basketball players who look up Coach Cunningham said everyone at Cathedral Catholic High, was in this tragedy together.
"Everyone gets affected," said Hanneli Lee whose son is a freshman basketball player. "Each student is aware."
Danielle McCay's son is friends with Taylor Cunningham. Her husband was asked to sing in the service.
"They were asking all of the dads and granddads to come and sing, kind of like, it's a special fatherly mass," McCay said.
An estimated 1700 people attended the mass held Tuesday morning.
The Cunninghams have a fourth child who was with his father at the time of the accident.
Published at 2:01 PM PDT on Mar 19, 2013 | Updated at 2:24 PM PDT on Mar 19, 2013