A powerful El Nino-fueled storm brought rain, snow, hail and strong winds to San Diego, triggering several storm warnings and advisories Monday.
A winter storm warning was in effect through 3 a.m. Tuesday for the mountains east of San Diego. With gusty conditions, visibility may be reduced to near zero at times so drivers should check conditions before heading out.
El Nino Storm Brings Weather Warnings, Snow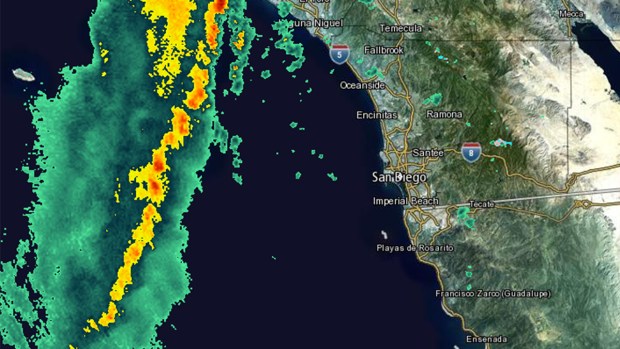 Nearly four inches of snow fell at the 4,000-foot level on Palomar Mountain by late afternoon, according to the San Diego Department of Public Works. Chains were not required for drivers traveling up the mountain, but recommended.
Powerful Storm Triggers Warnings in San Diego
"We could see anywhere from eight inches to a foot of new snow," NBC 7 Meteorologist Jodi Kodesh said. For a full snow forecast, click here.
@nbcsandiego east side of our house in Julian pic.twitter.com/ZUSmEUAtj8

— Sheri (@skpbab) March 7, 2016
A high surf warning was in effect from noon Monday to 4 p.m. Tuesday.
The National Weather Service warns of strong rip currents and potentially damaging high surf. There may be isolated lightning at times throughout Monday into early evening.
Garnet Avenue in Pacific Beach looked like a ghost town Monday. Chef Daniel Sanchez said sideways rain and dangerous wind guests kept most people from the boardwalk, restaurants, bars and shops.
"I did get a few customers to come in. Of course they ordered to go because they don't want to be sitting out in the cold," Sanchez explained, "It's been actually pretty windy but as long as affecting the business it has done so. People don't want to come out and enjoy food they want to stay home in comfort."
In Ocean Beach, one business owner said flooding from the rain can be a serious problem if the drains are not working properly.
"It's almost like a bathtub scenario," said Izzy Elizondo. "If the drain is plugged, it could fill up for hours and we could really be in a serious situation."
Preliminary rain totals ranged from more than .25" at Lindbergh Field to more than an inch in Oceanside. South Bay residents saw hail but only a few tenths of an inch of rain.
Palomar Mountain was the wettest spot at 11:00 a.m. with 1.19 inches measured at Birch Hill.