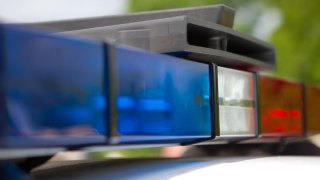 La Mesa police are investigating a robbery that occurred around 1:20 a.m. Friday at the Riviera Supper Club on the 7000 block of University Avenue.
According to reports, an employee was closing out the register for the night when an unknown suspect armed with a knife approached him from behind and demanded cash.
A fight ensued and the employee was shoved to the floor as the suspect took the money from the cash register and fled out the back door.
The employee suffered a small cut to his hand but did not need medical attention.
La Mesa officers along with help from SDPD's helicopter ABLE searched the area but came up empty handed.
The suspect is described as a white adult male, about 6 feet tall with a muscular build. He was wearing all black clothing including black shoes and a black ski mask.
Officials are asking the public to call the La Mesa Police Department if they have any information pertaining to this crime.
You can call Crime Stoppers' anonymous toll-free tip line (888) 580-TIPS. You can remain anonymous, and be eligible for a reward of up to $1,000 for information in this case.
Published at 7:53 AM PDT on Aug 15, 2014 | Updated at 8:01 AM PDT on Aug 15, 2014