A La Jolla woman has accused San Diego Mayor Bob Filner of touching her inappropriately.
Dianne York is a businesswoman in San Diego who owns a mineral make-up company and she is the latest in a string of women who've come forward claiming Filner was inappropriate toward them.
Special Section: Mayor Under Fire
York told NBC 7 that she met with Mayor Filner three months ago. She wanted to meet with him to discuss concerns about a predatory loan and foreclosure.
She claimed it was at that meeting when Filner put his hand on her buttocks when she asked to take a photo with him. York said the mayor's representatives were present in the room, when he inappropriately touched her.
"I was startled at the time," York said at a press conference on Wednesday.
She has since filed a report with the sheriff's department and said it took a lot of courage to speak up.
"I did this for the people of San Diego," York said.
National Women's Veterans Association of America President Tara Jones also appeared at the press conference, and said that York is brave for speaking out.
"There's a lot of other women out there, we want you to come forward," Jones said.
Recall effort leader Michael Pallamary also appeared alongside York, saying she should be applauded for her courage. York is also participating in the recall effort, she said Wednesday.
According to York's website, she is the owner of a La Jolla spa that specializes in mineral makeup. She was named Woman of the Year by the National Association of Professional Women.
Filner has not commented on any of the accusations made against him.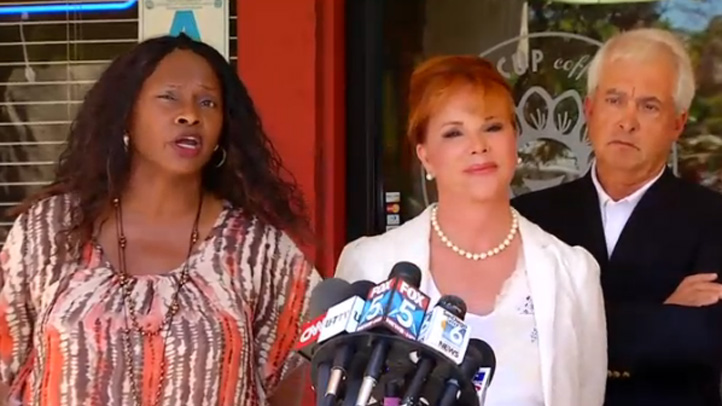 Jones, York and John Cox stand together at the news conference.
Published at 12:47 PM PDT on Aug 21, 2013 | Updated at 4:49 PM PDT on Aug 21, 2013