Three vehicles were involved in an accident that left a trail of debris along a major La Jolla road Thursday, officials said.
A section of Nautilus Street known for high-speed travel was blocked off after the collision occurred around 9:40 a.m. Car parts, dirt, palm tree stems and fronds and a street sign were strewn along the street and sidewalk.
San Diego Fire-Rescue crews worked to free one man trapped inside a black BMW that was turned onto its side. He was strapped to a gurney and then loaded into a Rural Metro ambulance and taken to a nearby hospital.
Officials say it appears the black BMW was traveling westbound when it struck a dark gray Mercedes SUV near Avenida Manana.
The black BMW continued along Nautilus and struck a white BMW that was parked along the street before ending up on its side at the corner of Avenida La Reina, firefighters said.
Construction Worker Helps Rescue Kids from Wreck
The white BMW had rear-end damage was resting in the driveway of a home.
The Mercedes SUV was on its side with visible damage. Officials said an adult and two children were pulled from this vehicle. All were taken to nearby hospitals with what firefighters described as minor injuries.
Cars Overturn in La Jolla Crash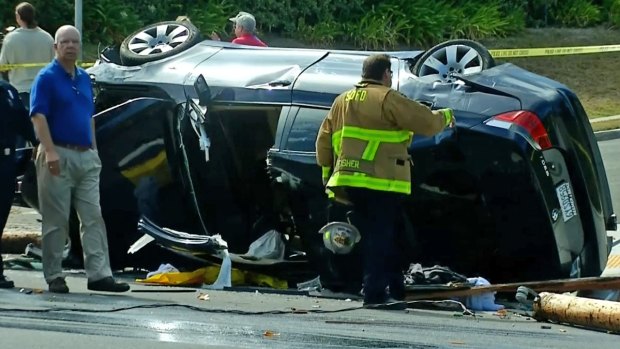 The location of the crash was just down the street from La Jolla High School and Muirlands Middle School. The schools were not in session.
Officials aren't sure how long Nautilus will be closed in the investigation.
Check back for updates on this developing story.
Published at 9:58 AM PDT on Aug 21, 2014 | Updated at 5:30 PM PDT on Aug 21, 2014