Deputies evacuated a bank in Imperial Beach Saturday after a suspect robbed the branch and left behind a suspicious device riddled with wires.
The FBI and San Diego Sheriff's Department said the robbery happened around 1:15 p.m. at the Chase Bank located at 1122 Palm Ave.
An unknown male suspect armed with a suspicious device entered the bank and approached a teller. Investigators said he was carrying a red Verizon-brand shopping bag, from which he pulled out a small gray box with wires attached to it.
The suspect demanded cash from the victim teller. He then walked away with an undisclosed amount of cash and left the suspicious gray box on the teller counter, indicating that it contained explosives.
Deputies and the San Diego Sheriff's Bomb/Arson Unit responded to the scene. By 1:20 p.m., deputies had evacuated the bank and began investigating the suspicious device. Surrounding areas were blocked off as well.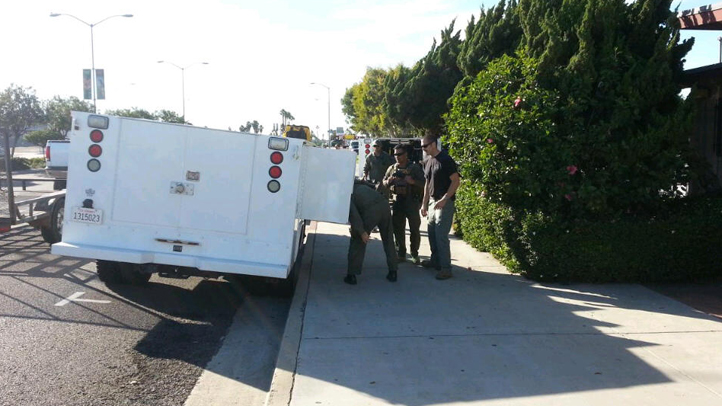 At the same time that the Chase Bank was robbed, authorities said they received a call reporting another alleged suspicious device near 13th Street and Imperial Ave.
However, responding deputies did not find any device at that location. It is unclear if that call was related in any way to the situation at the nearby bank, officials said.
The bomb squad used a robot to retrieve the device and brought it outside for inspection. After about two hours, officials rendered the device harmless and determined that it did not contain any explosive material.
No injuries were reported.
FBI investigators and deputies are still searching for the robbery suspect. He's described as a white male, approximately 19-26 years old. He's around 5-foot-9 and approximately 160 to 175 pounds with a medium build.
Investigators said he had brown and white wavy hair, possibly hazel-colored eyes and acne around his mouth, cheeks and nose. He was wearing a white long-sleeved collared shirt and khaki pants during the robbery.
Anyone with information on the suspect is urged to contact the FBI at (858) 565-1255.
On Saturday, another suspicious device was found hours earlier at a church in University Heights. Lt. Marco Garmo with the San Diego Sheriff's Department told NBC 7 that investigators were looking to see if the incidents could possibly be related, as that can sometimes be the case.
"A lot of times we see those situations come up at the same time to try to deter our attention from one incident and take it to another.I think we are working with SDPD on that one," said Lt. Garmo.