The Sycuan Tribe is offering a hefty reward to solve the murder of one of its members.
Xusha Brown, Jr., 22, of El Cajon was killed in a highway shooting Sunday.
La Mesa Police hosted a news conference Monday to update the public and announce the reward. The Sycuan Band of the Kumeyaay Nation is providing $50,000. $10,000 will be given through Crime Stoppers, and $40,000 will come from the tribe directly.
"The entire tribe is grief-stricken," said tribe spokesperson Adam Day.
A family friend tells NBC 7 the victim's father shocked and distraught over his son's death. The father is a prominent tribal member who has been on the gaming commission for years.
La Mesa Police Chief Ed Aceves says he hopes the reward will be incentive for someone to come forward with information. Police say they don't have any suspects, but are looking for a silver sedan. They think the crime could be gang related.
Brown and Malcolm Hune, 21, were traveling eastbound on Interstate 8 in La Mesa early Sunday morning. Officials say another car opened fire, shooting Brown in the head. Hune was hit in the arm. Police say other people were also in the car, and one of them drove the victims to Grossmont Hospital.
Brown was transferred to Sharp Memorial Hospital where he later died.
The California Highway Patrol received a call around 3:30 a.m. Sunday, saying a car was blocking eastbound I-8 near State Route 125. They also received reports of a person on the side of the road. On Monday, police confirmed that person was Brown.
Part of the highway was shut down for more than five hours as officers investigated.
Brown, known as "Lil Shu," is receiving an outpouring of support on Twitter.
The reward will be given for information that leads to an arrest and conviction in the case. Anyone with information can call Crime Stoppers at 888-580-8477.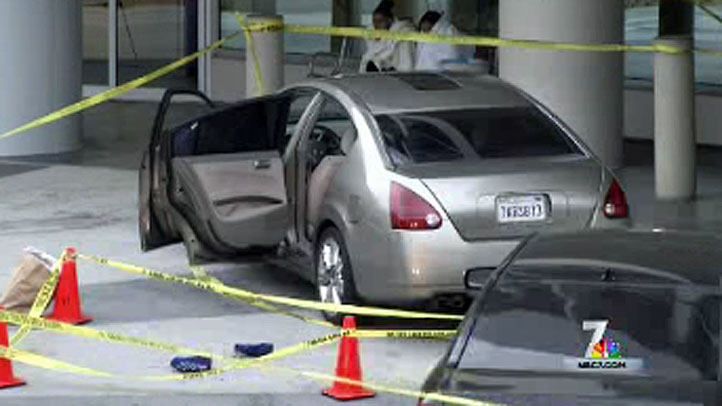 Published at 2:24 PM PDT on May 6, 2013 | Updated at 9:36 PM PDT on May 6, 2013