Wedding bells were ringing Sunday at Sharp Memorial Hospital as a local heart transplant patient married his fiancée in a very special in-hospital ceremony.
When patient Manuel Francisco, 46, was told by his doctors it might take as long as three months to receive a prescribed heart transplant, Francisco made a vow to marry his fiancée, Diane Sobreo, at Sharp Memorial Hospital as he awaited his new heart.
Sharp representatives say Francisco was diagnosed with a viral cardiomyopathy in August 2012, a disorder caused by a viral attack on the cardiac muscles of the heart.
Francisco's condition continued to worsen and after two weeks at the hospital, he was placed on a transplant list on Feb. 8. He remained in intensive care on IV medication that helped sustain his heart function as he waited for his new heart to become available.
Fortunately, that lifeline came much sooner than expected.
Sharp representatives say Francisco received his new heart on Feb. 26 and has been recovering at the hospital ever since.
With a new lease on life, Francisco has decided to continue to focus on his heart – in other ways now -- by marrying the woman he loves.
He decided to tie the knot, as promised, in a heartwarming, in-hospital wedding that was held this past Sunday, Mar. 10.
Erica Carlson of Sharp Memorial told NBC 7 the ceremony was held on the fifth floor waiting area of the hospital, by the windows, so the couple would enjoy a nice view as they exchanged their vows.
Vicki McCalmont, a Sharp Heart Transplant nurse practioner, told NBC 7 on Saturday that the couple would be joined by their family and friends, and doctors, nurses and caregivers who have bonded with the pair and become like family during Francisco's time at the hospital. A community of other transplant patients would attend the wedding as well.
McCalmont says the happy couple has actually known each other since the second grade. After childhood, they went their separate ways and reconnected as adults one year ago.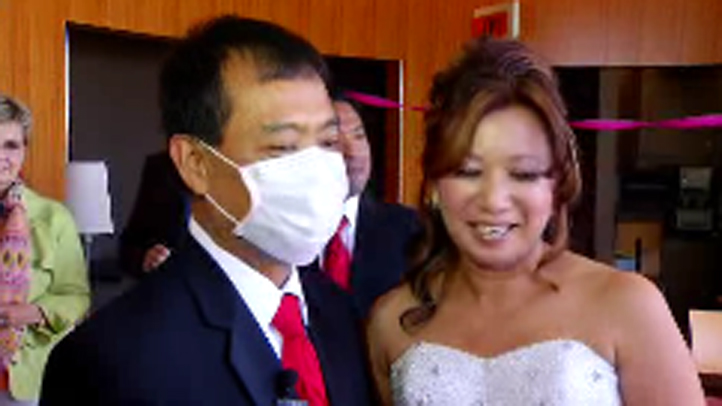 McCalmont says this will be the Francisco's first marriage and Sobreo's second.
"Francisco's near-death experience made him realize how precious life is," McCalmont told NBC 7. "They are a great couple, and this will be a great event."
Francisco and Sobreo wed at the hospital at 1 p.m., undoubtedly sending hearts aflutter on their big day.
"[This is] very exciting," said the bride after the ceremony. "We can't believe it – we can't believe we made it here."
"I feel new again," said Francisco. "[My health] is 100 percent now."