San Diego area law enforcement announced a multi-city crackdown on gang violence Tuesday that was believed to have netted the most illegal weapons seized in a single day in U.S. history.
More than three dozen people were arrested in what's described as a record crackdown on gang activity in San Diego County.
Authorities seized more than 60 guns along with ammunition, body armor and more than $200,000 worth of methamphetamines in Oct. 2 raids on homes and storage units in Spring Valley, Lomita Village and Mira Mesa.
The weapons included assault rifles, Uzi submachine guns, high-powered rifles and a law enforcement taser.
San Diego residents Norman Punsalan Nooris, 41, Yeng Yang, 32, Donald Carl Garland, 42, Andrea Osuna, 18, Marco Antonio Hernandez, 30, Daniel Anthony Quenga, 42, Tony Lomeli, 43, David Ulloa, 36, Veronica Ojeda, 24, Ernest Henry Garibay, 32, William Robert Elmenhorst, 26, Luis Vasquez, 30 and Nelida Carina Huerta, 36, Kyle Eder, 23, Louis Van Phan, 29, Scott Randall Horine, 50, Anthony William Harvey, 28, James Oneal Jr., 40, Hao Duc Tang, 37, Michael Edward Dowling, 41, Sengkham Koulavongsa, 39, were named in a news release about the indictment.
Also named as defendants were John Pross, 52 and Carlos Ponce-Ramirez, 37, of Spring Valley; Michael Stroehlein, 45, of El Cajon; Liuis Ocampo-Estrada, 40, Manuel Luzanilla-Machado, 55, and Jose Enrique Hernandez, 35, of National City; D'Angelo Nicolas Quenga, 21, of San Ysidro; Richard Abram Elliot, 43, of Lemon Grove; Michael Anthony Valenzuela, 33, of Chula Vista; Delanie Paz Manuel, 42, of Santee; Shoshana Christie Elias, 30 of Poway; Cesar Rodriguez, 32, of Vista and David Wilson, 53, of Boulevard.
Among the various charges in the indictment were trafficking in guns and drugs according to a news release.
Ojeda is accused of selling "large quantities" of drugs from her grandmother's house located less than a block from Audubon Elementary School on San Vicente Street in Lomita Village, prosecutors alleged.
The arrests were part of a two-year operation dubbed "Crystal Palace," according to U.S. Attorney Laura Duffy.
Duffy told NBC 7 San Diego the investigation spread across San Diego County.
"It got into Linda Vista, into Mira Mesa, Spring Valley, Chula Vista, Logan Heights, and the connections grew," explained Duffy.
In 2012 alone, police have received 19 citizen complaints related to drug trafficking in the Lomita Village neighborhood around Ojeda's grandmother's house and the home of another alleged dealer.
The federal crackdown in the area comes as a big relief for the neighborhood.
"It has a huge impact on the safety and security of our streets," said Duffy told NBC 7.
Duffy said getting the drugs and guns off the streets is the most satisfying part of the investigation.
"We're really able to reach into a community and provide them with some pretty immediate relief as to the crime and disruption problems that we're facing," she said.
According to Duffy, the first arrests in operation "Crystal Palace" were made in January. Since then, 119 alleged gang members have been taken into custody, and 79 of those defendants have pleaded guilty.
"We've taken off some of the shot-callers. We're done some real damage to some of these gangs," said Duffy.
Many of those suspects will spend at least 10 years in federal prison.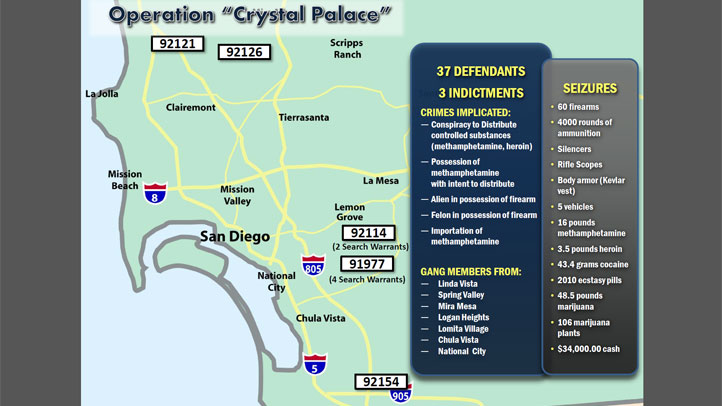 Published at 9:11 AM PDT on Oct 17, 2012 | Updated at 3:59 PM PDT on Oct 20, 2012