Just days after a U.S. Marine, his wife and their two dogs were killed in a fiery collision on Interstate 5, one family member talks about the couple taken "too soon."
Shardeh Watkins' step-father spoke Wednesday to NBC 7 San Diego in an exclusive interview.
Heartbroken, he said he finds solace in knowing they died as a family.
"The only thing that comforts us is that they all went quickly and they all went together," Matthew Norris said of his step-daughter, her husband, Marine combat veteran Gerrick Watkins, and the couple's two dogs Layla and Scout.
Norris said the couple was most likely on their way home after their typical Saturday routine - a day at the beach with their labs – when their pickup truck slammed into a pole and caught fire.
The fatal crash happened around 10:40 p.m. Saturday on southbound I-5, just north of the San Onofre Inspection Facility near Camp Pendleton and Basilone Road.
A witness told investigators he tried to help but the flames were just too much.
Gerrick Watkins, 23, was based at Camp Pendleton and had recently returned from deployment.
He and Shardeh, who worked as a nanny on the base, had eloped in Las Vegas just two years ago.
"They enjoyed each other's time and they enjoyed each other's company," Norris said.
The two met in San Diego. Shardeh was an animal lover who was very family-oriented, Norris said.
His step-son-in-law had served in Afghanistan and returned unharmed.
"Gerrick - he was an honorable individual. He was a polite individual, respectful individual."
A driver changing a tire on his own car on the side of the road witnessed the crash and explosion.
He told CHP officials the truck veered into the pole suddenly, and that he could hear Gerrick yelling for help following the crash, unable to get the door open before the truck became engulfed in flames.
The pole that the truck crashed into is a pre-pass scanner that allows commercial vehicles to bypass the scales at the inspection facility, CHP officials said.
Both victims died from multiple blunt force injuries sustained in the crash according to the county medical examiner.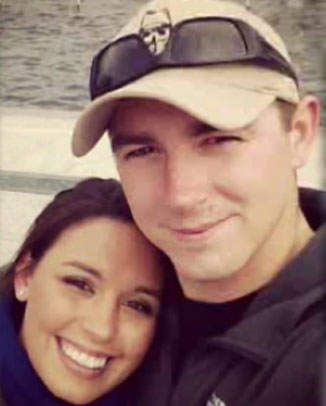 The cause of the crash remains under investigation.
The couple was scheduled to move to Japan this summer as part of Gerrick's orders from the U.S. Marine Corps.
At 23, Shardeh had dreams of starting a family.
Norris said the couple was taken too soon.
"It's very unfortunate that neither one of them was able to experience those sort of things," he said.
Shardeh and the two dogs, Layla and Scout, will be buried in her home state of Maryland. Gerrick will be laid to rest in his home state of Texas.