A man accused of punching a San Diego police officer in the face during opposing rallies at Chicano Park faced a judge Wednesday.
Frederick Burnett Jefferson, 29, pleaded not guilty to four charges, including assault on a peace officer and resisting arrest, at a brief court appearance.
The charges, which could result in up to nine years and four months in prison for Jefferson, stem from an alleged attack on a San Diego Police Department (SDPD) officer Saturday who was maintaining the peace between two opposing groups demonstrating in Chicano Park.
One group, dubbed the Patriot Picnic, was demonstrating against the park located under Coronado Bay Bridge that they believe discriminates against non-Latinos. The group of about three dozen gathered at the San Diego Convention Center Saturday and marched to Chicano Park, where they were met with hundreds of counter-protesters.
After the assault, the unnamed SDPD officer was hospitalized with fractures to his face and nose, according to SDPD Lt. Scott Wahl. The circumstances leading up to the altercation were not made clear at Jefferson's arraignment.
The officer was recovering at home Wednesday and expected to make a full recovery.
3 Arrested at Rival Protests in Chicano Park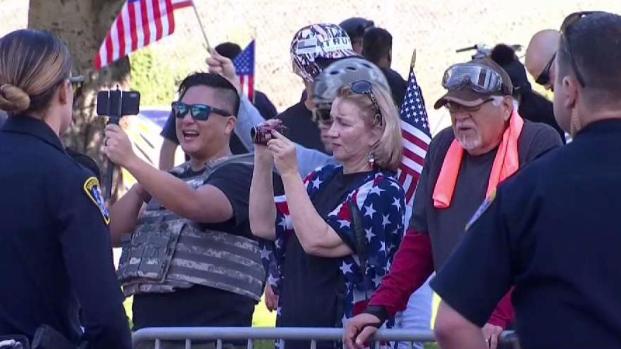 In all, three people were arrested during the demonstrations. The two others detained face charges of resisting arrest and of possession of a billy club, SDPD said. Police said otherwise, the protests were mostly peaceful.
One of the Patriot Picnic organizers, Roger Ogden, described their gathering as a demonstration against Chicano Park's "discrimination" and "radical political theme."
The first Patriot Picnic rally was held in September 2017. Counter-demonstrators believe the picnics have racial undertones, a claim that Ogden denies.
Chicano Park in its current form dates back to the 1970s, when San Diego residents occupied Chicano Park in a successful effort to prevent the construction of a California Highway Patrol substation on the land where the City of San Diego had promised to build a park for the community. The park has served as a symbol to the predominantly Mexican-American community that makes up Barrio Logan since.
The park was designated a National Historic Landmark in January 2017 because it depicts a broad range of America's rich, complex history, according to the U.S. Department of Interior.

Ogden believes that the park's depiction of the Chicano Civil Rights Movement, through painted murals and flags, is part of what makes the park discriminatory to other groups.