A Del Mar woman, stuck for hours at the bottom of a steep cliff, survived by drinking muddy creek water and banging sticks together to ward off coyotes.
Elizabeth Allen, 50, was found Thursday by search and rescue crews more than a day after she was last seen running from her car along Lake Wohlford Road.
Hours after she was released from the hospital, the woman told NBC 7 San Diego she thought someone was following her as she drove home from Valley View Casino Wednesday.
When she pulled over and got out of her car, she fell 80 to 100 feet down a steep cliff.
Allen survived the night without food, water or her mobile phone that she had left on the seat of her car.
Fearful of coyotes, Allen stayed awake all night banging two sticks together. She said it was bitterly cold at night and her teeth were chattering according to her husband.
During the day, she sat under a tree to protect her from the sun.
When she got thirsty, she said she drank muddy creek water.
Allen had called her husband around 8:30 a.m. Wednesday and told him she was at Valley View Casino.
That same day, California Patrol Officers received a call reporting a woman running from a vehicle alongside Lake Wohlford Road.
CHP officers found the car along a road considered dangerous.
"The turn is on a treacherous road that is difficult to maneuver at night if you're not paying attention," said Lt. Kelly Martinez with San Diego County Sheriff's Department.
They towed the vehicle and used ASTREA to search for the driver but didn't locate anyone.
On Thursday, after Allen had not returned home, her husband asked deputies to search again.
Search and Rescue (SAR) K-9 Handlers Pam Medhurst and Nancy Nichols were led to the area where Allen was located by SAR K-9s "Snickers" and "Haley" according to the sheriff's department Facebook page.
Rescuers stood just above where Allen was located and yelled her name but she didn't respond. She later told NBC 7 San Diego she thought she may have been hallucinating.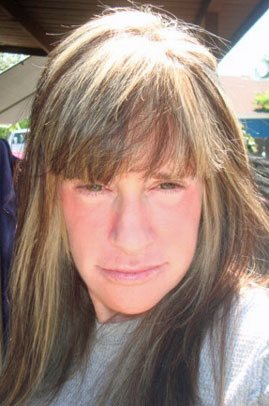 Around 3 p.m. SAR crews pulled Allen from the ravine located near Lake Wohlford Road and Valley Center Road. She was dehydrated, but alert and talking according to deputies.
Since she was unable to walk, deputies brought in a helicopter to hoist her to an ambulance.
Dave Allen said his wife was treated at Palomar Hospital for poison oak, mosquito bites, cuts and blisters.
"They are very nice caring people," Allen said. "The staff there was fantastic."
"They all kept in touch with me they called me every hour to tell me what's happened," he said of the rescue crews. "They never gave up hope and they had 100% commitment."