A campaign rally for presumptive GOP presidential candidate Donald Trump in San Diego Friday turned violent after protesters clashed with police outside the San Diego Convention Center, yielding three arrests.
Protesters, supporters and law enforcement officials filled the heart of downtown San Diego for the high-profile political event. Trump took the podium inside the convention center just before 2:30 p.m.
About a half-hour into Trump's speech, protesters filled the intersection outside the convention center on Harbor Drive where San Diego Police Department (SDPD) officers had established a "free speech zone" for demonstrators designed to prevent violent encounters between protesters and supporters. That area in front of the San Diego Convention Center is typically very busy with both vehicular and pedestrian traffic. The San Diego Metropolitan Transit System's (MTS) trolley also runs through the area.
In that zone, a protester tried to jump the police barricade and that's when things turned violent.
Several arrests followed and at approximately 4:40 p.m., police declared the gathering an "unlawful assembly." Hours later, police said 35 people had been arrested in the aftermath of the rally.
WARNING GRAPHIC LANGUAGE: NBC 7 User Video From Trump Protest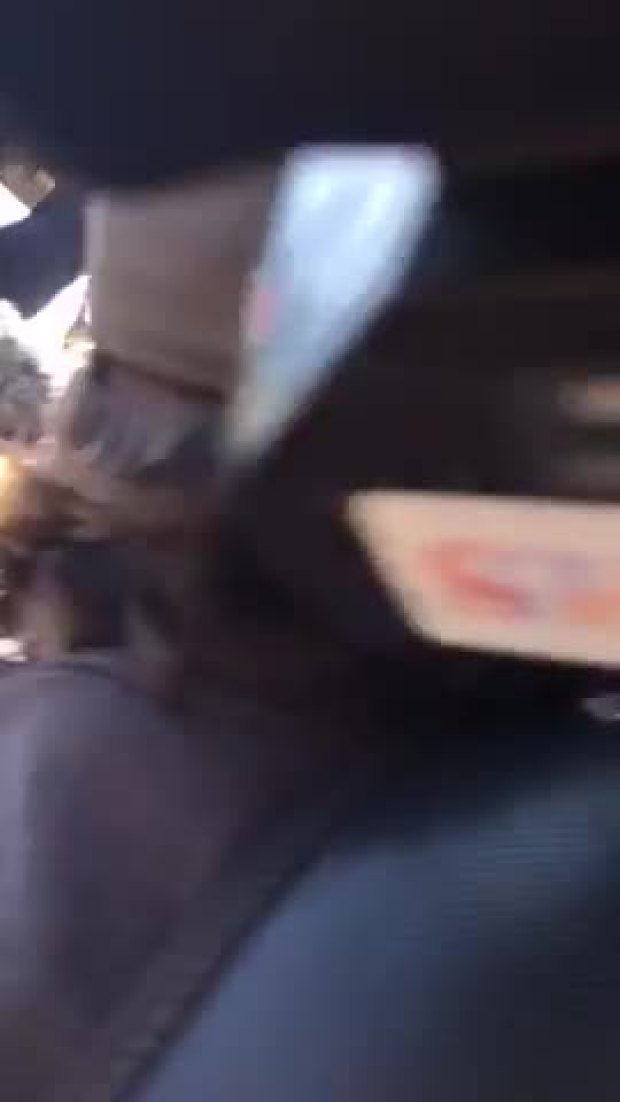 One encounter was captured on cellphone video obtained by NBC 7. In the video, a young man holding a Mexican flag is standing on a railing near SDPD officers.
Officers approach the man and pull him off the barricade. As the officers are pulling the man, other men jump onto the railing and confront police. Officers pull out their batons and begin swinging at the protesters while deputies, outffited in helmets and riot gear, move in on the crowd.
As the video shows, at least one man was hit in the head by an officer. As tensions boiled, some people in the crowd threw water, shoes and other objects at the officers. A man could be heard chanting, "Shame! Shame! Shame!"
People try to jump gate. Officers beat with a stick and deputies move in with helmets on.#NBC7pic.twitter.com/Rjr5tP3pi5

— Matt Rascon (@mattnbcsd) May 27, 2016
Watch: Protesters outside Trump rally start to attack SD police officers, who hit back. pic.twitter.com/4bSZHVQAck

— Jacob Rascon (@Jacobnbc) May 27, 2016
Minutes later, SWAT officials were called in to help control the crowd. One-by-one, officials lined up on the other side of the barricade. Many protesters could be heard shouting at officials, the heated moment coming to a head.
One man was arrested for trying to breech the security area, SDPD officials confirmed.
**Situational Update** Several protestors tried to breech a secured area. One arrest has been made.

— San Diego Police (@SanDiegoPD) May 27, 2016
By 4:30 p.m., the number of arrests had climbed to three, police said.
Just an hour before the violent clash between protesters and police, SDPD Lt. Scott Wahl held a media briefing and said no arrests had been made at the demonstrations outside the political rally. At that point, he said protesters had behaved peacefully in and around the convention center. Wahl said several groups of protesters had come through the area and assured things were "going well" in terms of security and safety.
Again, Wahl emphasized the importance of "peaceful protests." He said that if someone gets arrested, they would be in custody until next week due to the Memorial Day holiday weekend.
**Situational Update** crowd size is approximately 1,000. No arrests have been made. All protests have been peaceful.

— San Diego Police (@SanDiegoPD) May 27, 2016
As of 4:10 p.m., SDPD Chief Shelley Zimmerman again confirmed there had been one arrest. She said officers issued a few other citations at the rally but said the majority of attendees had complied with police orders and safety measures.
Zimmerman said plastic bottles were among the objects hurled at police by protesters, but no officers were hurt.
San Diego Fire-Rescue Department (SDFD) Assistant Chief Colin Stowell said his crews had received a low number of medical calls in the rally area. Of those eight medical calls, one person was taken to the hospital, Stowell said.
SDPD and SDFD officials planned to remain in the rally area for several hours until crowds dissipated.
The preparations for Trump's San Diego rally began long before he took the stage in front of supporters. As early as 5 a.m., SDPD officers and other law enforcement agencies began staging security preparations downtown.
Trump supporters, many decked out in Trump shirts and hats, also began filing into downtown early, securing their spots in line. Protesters, signs in hand, swarmed into the area early as well.
Donald Trump Rallies in San Diego
In an effort to keep this rally peaceful, SDPD officials had designated certain zones around the convention center as areas for Trump supporters and areas for protesters. This move by SDPD came on the heels of violence earlier this week at Trump's rally in Anaheim, California, where shouting matches erupted between opponents and supporters.
Still, some San Diego protesters told NBC 7 they were planning to demonstrate outside the designated zones Friday. At least three separate groups planned to hold marches against Trump near his rally venue, including one group planning to stage a peaceful protest at Fifth Avenue and Harbor Drive across the street from the convention center. That group said they wanted their voices heard but were not looking for a fight.
Here we go. Anti Trump protesters converging on Convention Center. #nbc7pic.twitter.com/4wLzTAyi2Z

— Artie Ojeda (@ArtieNBCSD) May 27, 2016
Earlier this week, SDPD Chief Shelley Zimmerman said "swift and decisive action" would be taken by police against anyone planning violence during Trump's visit to San Diego.
"We are not going to tolerate violence or disobedience to the law during this event," said Zimmerman. "We will take swift and decisive action for anyone who causes an unsafe environment by engaging in illegal activity."
The police department reminded protesters that it's illegal to block sidewalks or interfere with vehicular or pedestrian traffic along the busy streets near the convention center.
"We have designated free speech areas for those wishing to participate in peaceful demonstrations. These zones have been designated to allow the participants to have a reasonable opportunity to communicate their message in a peaceful way to the intended audience," Zimmerman said.
The chief said there would be uniformed and plainclothes officers out in full force at the rally.
As SDPD officers set up barricades in front of the convention center Friday morning, an enthusiastic crowd applauded the officers, one man chanting, "Blue lives matter!"
"Blue lives matter!" - #Trump crowds break out in applause of @SanDiegoPD officers setting up barricades #NBC7pic.twitter.com/orIGLR1GuP

— Liberty Zabala (@LibertyNBC7SD) May 27, 2016
Many Trump supporters rolled out the welcome mat for the Republican, including Solana Beach congressional candidate Reagan Allvord who woke up very early to line up for the rally hours before Trump was set to speak.
"Americans need to stand up for America and I want to stand 24 hours – to do it prior to the Trump rally because that's what it's taking," Allvord told NBC 7. "We want to make sure we don't repeat the mistakes of the last two elections where Republicans stayed home and didn't vote."
The line of #Trump supporters keeps growing for #MakeAmericaGreatAgain rally in SD #NBC7pic.twitter.com/5eJjiyQryp

— Liberty Zabala (@LibertyNBC7SD) May 27, 2016
Trump supporter Cynthia Bevins lined up for the rally with her son. They both wore hats with the Trump slogan, "Make America Great Again."
"We just need him for our country," said Bevins.
"We just need him for our country." - #Trump supporters Cynthia Bevins #NBC7pic.twitter.com/PMWcvUzz9i

— Liberty Zabala (@LibertyNBC7SD) May 27, 2016
Two 18-year-old supporters felt the same way about Trump.
"I like how he puts America first," one of them told NBC 7.
A Trump supporter who was attacked by protesters in Costa Mesa, California, last month was one of the first supporters in line for the San Diego rally Friday, NBC's Jacob Racon reported.
Trump supporter attacked by protesters at Costa Mesa rally in April is one of the first in line for San Diego event. pic.twitter.com/d11aRLuflz

— Jacob Rascon (@Jacobnbc) May 27, 2016
Vendors lined up outside the convention center to sell merchandise to Trump supporters, too.
Vendors selling Trump stuff outside of Conventiom Center. #nbc7pic.twitter.com/NZCQ2xVAxC

— Artie Ojeda (@ArtieNBCSD) May 27, 2016
Meanwhile, those against Trump sang a very different tune.
Supporters and protesters wait for @realDonaldTrump to arrive in San Diego around 2pm #SDTrumpRally#NBC7pic.twitter.com/3Hgx3DPkPn

— Tom Jones (@TomJonesNBC) May 27, 2016
"San Diego is not supporting a Trump presidency," one Trump opponent told NBC 7. "The dangers of such a presidency, is really, to inflame racial issues across this country and [cause] havoc abroad."
In the anti-Trump zone, opponents held up signs that read "NOPE" and "#DumpTrump" as a pinata resembling Trump swayed above the crowd.
Just before 10 a.m., dozens of SDPD officers outfitted themselves with protective riot gear in anticipation of the crowds at the rally.
Dozens of @SanDiegoPD officers w riot gear suit up outside of convention center ahead of #DonaldTrump's rally #NBC7pic.twitter.com/gBuhopoGfP

— Liberty Zabala (@LibertyNBC7SD) May 27, 2016
Zimmerman told news media there was "significant presence" of SDPD personnel, as well as crews from the San Diego Fire-Rescue Department (SDFD). She said officers had been in contact with groups protesting the event, and the groups planned to organize peacefully.
"That's the emphasis," Zimmerman added.
The chief said the SDPD was working closely with other state, local and federal agencies to protect public safety at the rally. She said SDPD officials had been monitoring previous Trump rallies in anticipation for Trump's appearance in San Diego.
At 12:40 p.m., Zimmerman was seen keeping a watchful eye over the convention center from a rooftop at a nearby downtown hotel.
Around 1 p.m., politicians began speaking inside the rally in support of Trump in front of an enthusiastic crowd.
"Build a wall! Build a wall!" the supporters chanted.
This included Congressman Duncan Hunter and Congressman Darrell Issa. A few minutes later, Sarah Palin took the podium. "Papa" Doug Manchester also spoke in support of Trump.
At 1:30 p.m., Trump's private airplane landed at Lindbergh Field. He stepped off the plane a few minutes later.
Donald Trump Lands in San Diego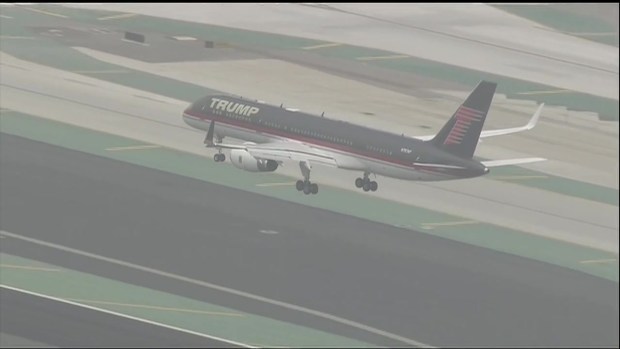 Friday's rally caused delays for public transit, including trolleys runing along Orange and UC San Diego Blue lines. Due to the heavy police presence and large crowds, the San Diego Metropolitan Transit System (MTS) said riders should expect at least 10-minute delays near the Fifth Avenue transit station near the convention center as the rally unfolded.
Walh said Harbor Drive would remain closed until rally crowds left the area.
Trump took the stage just before 2 p.m. He touched on a variety of topics, including helping U.S. veterans, fighting ISIS, illegal immigration and "building a wall."
"We're going to build it. And if I don't build it, I'll get Papa Doug to build it," Trump said, pointing at Manchester in the crowd.
The room erupted into cheers.
Trump also talked about his disdain for the media. The presidential hopeful also discussed Trump University and a class-action lawsuit filed in San Diego.
"It's a disgrace the way the federal court is acting," he said. "There should be no trial."
Trump spoke for about an hour, wrapping up just before 3:30 p.m.