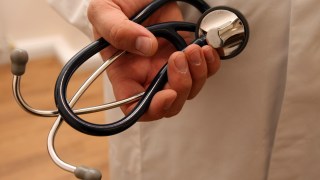 A doctor who showed up to work with a blood alcohol content of nearly five times the legal driving limit had "self-medicated" with alcohol to deal with post-traumatic stress disorder, according to an accusation filed by the Medical Board of California Thursday.
Jason Lane, M.D., could now lose his medical license because of the incident on Oct. 22, 2013, for which he was fired.
The medical board filed an interim order of suspension on June 30, 2014 to prohibit Lane from practicing medicine in California, though the board did not say if he had worked between then and the time he was terminated. Kimberly Kirchmeyer, executive director of the medical board, requested a hearing on the new accusation, which could allow her to revoke Lane's license.
Before the drunken incident, Lane was working as a physician and surgeon for Southern California Permanente Medical Group, dividing his time between the Kaiser Permanente Medical Center in Grantville and Palomar Medical Center in Escondido.
The night of Oct. 21, Lane and his wife got into a fight about his drinking, and before he went to sleep, he drank two bottles of wine, the accusation says. Around 1 a.m., Lane woke up and drank another eight ounces.
The next morning, he arrived at Kaiser so drunk he had to be admitted to the emergency room, says Kirchmeyer in the accusation.
A blood test revealed he had a BAC of 0.39 percent. Three days later, the Permanente medical group fired him.
During the medical board's investigation, Lane admitted he started binge drinking in college, and later, he had alcohol at night to help him sleep, according to the accusation.
But the problem worsened after he enlisted in the military in 2011 and worked as a trauma ICU physician in Afghanistan for four months.
"Upon his return from that deployment, respondent (Lane) admitted using alcohol to 'self-medicate' issues that he later identified as posttraumatic stress disorder," Kirchmeyer says in the document.
Lane discussed with investigators how he then began drinking at night and on weekends, but never at work. By fall 2013, he admitted to having at least one bottle of wine a night and started to feel withdrawal symptoms – like anxiety and shakiness – while at the hospitals, according to the board's investigation.
The physician says the morning of the critical incident, he vaguely remembered getting up and being taken to the emergency room, but he does not recall driving to work, the accusation alleges.
After he was treated for alcohol detoxification, the board lists how Lane became proactive about seeking help.
Lane first checked himself into a week-long treatment program, where he was diagnosed with alcohol dependence and withdrawal. When that program ended, he started a 30-day treatment session at Casa Palmera.
On Christmas Day, Lane joined Casa Palmera's six-week outpatient program and began attending Alcoholics Anonymous five or six times a week on Jan. 26, 2014, the accusation states.
Lane has not responded to NBC 7's request for comment.