Surfboards in hand, a group united Saturday in Coronado for a paddle-out tribute to a local man killed in last month's mass shooting at a bar in Thousand Oaks, California.
The group headed into the water near Glorietta Bay Park to remember Coronado native Justin Meek, 23, a beloved former student at Coronado High School and one of 12 victims shot to death in the Nov. 7 massacre at Borderline Bar and Grill.
Meek was a "College Night" promoter at the nightclub when suspect Ian David Long, 28, threw smoke grenades into the club and began firing on staffers and revelers. His family said Meek died trying to help others amid the chaos.
Those who knew Meek knew he had a passion for protecting people.
While some people paddled out into the water Saturday, others participated in the tribute from the shoreline. The group fondly remembered Meek and worked through their grief by singing Garth Brooks' "Friends in Low Places."
HAPPENING NOW: Paddle-out ceremony at Glorietta Bay Park for "Hometown Hero" & #Coronado High School alum #JustinMeek who was killed in the #ThousandOaks mass shooting. How friends & family are remembering him on #NBC7https://t.co/GHrmthQH3Rpic.twitter.com/svt2x6F7k4

— Liberty Zabala (@LibertyNBC7SD) December 8, 2018
The waterfront gathering was one of three memorial events planned for Meek this weekend in his hometown. On Friday evening, an outdoor memorial service was held on the football field at Coronado High School. On Sunday, a family service is planned at Graham Memorial Presbyterian Church.
Last month, an emotional memorial service was held for Meek at California Lutheran University. He had graduated from Cal Lutheran just six months before the deadly shooting.
An obituary released by Meek's family to the media told of Meek's upbringing in a military family, and how they moved around until settling in Coronado. On the island, Meek received a Boy Scout Eagle Scout award at the age of 13 and worked as a junior lifeguard.
In his role on the beach, he was always on the lookout for the safety of others.
"When he was guarding, when he was in his tower, when he was patrolling, he was a serious young man who took his responsibilities seriously," said Coronado Lifeguard Capt. Sean Carey.
Meek moved to Thousand Oaks, California, to attend California Lutheran University where he majored in criminal justice with a minor in music. There, he was a member of the water polo and hockey teams, Italian and Republican clubs and founding president of the Cal Lutheran Line Dance Club. He was also a member of the choir.
Memorial Service Held for Justin Meek in Thousand Oaks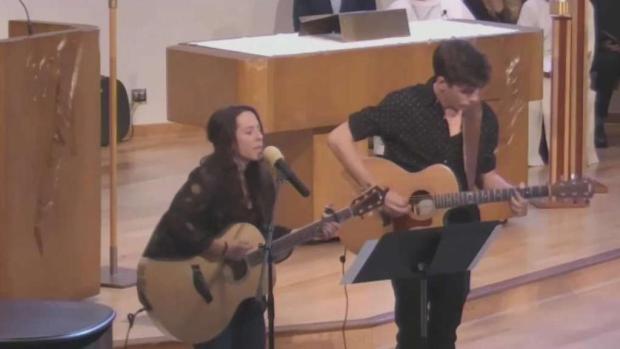 Meek's obituary said he had plans to join the U.S. Coast Guard and then become a U.S. Marshal.
"Justin had a very strong interest in the safety of others since the terrorist attacks on Sept. 11. Justin wanted to be a part of the solution, to serve, to protect," the obituary stated.
As he followed his path, the young man had been working in the private security sector and interning with a company that provided security to bars and clubs in the greater Thousand Oaks area.
Meek was described by his family as a "genuine, kind, loving, caring, compassionate, hardworking, talented man and a friend to everyone he met.
"Justin was about taking care of others -- that was his heart," Pastor David McElrath, of Graham Memorial Presbyterian Church, added.
Meek is survived by his parents, Laura Lynn Meek and Capt. Roger L. Meek, his sister, Victoria Rose Meek, and many other loved ones.
An online fundraising page was created for Meek last month, receiving an outpouring of donations.