A Camp Pendleton commander will lead the investigation behind the controversial video showing a group of Marines urinating on dead bodies.
Three-star Gen. Thomas Waldhauser is commander of Marine Forces Central Command and 1st Marine Expeditionary Division, which is responsible for Afghanistan. He's based at Camp Pendleton north of San Diego.
On Friday, the Pentagon announced Waldhauser will oversee the investigation into the Internet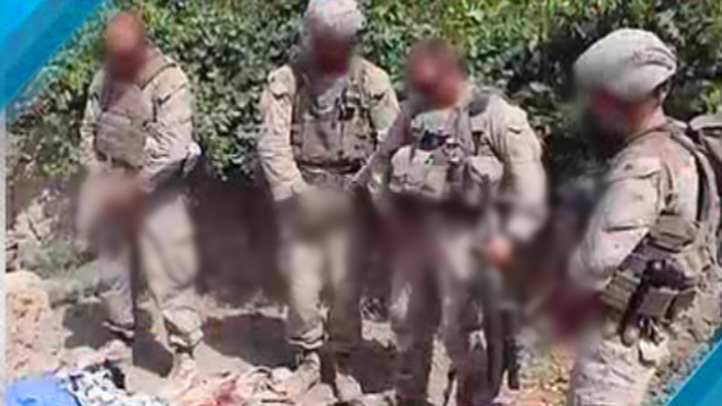 video purporting to show Marine snipers urinating on dead bodies in Afghanistan.
No one has been charged in the case, which triggered widespread outrage with the appearance Wednesday on YouTube of a brief video that appears to show four Marines in full combat gear urinating on the bodies of three dead men lying on the ground.
The four who appeared in the video are enlisted Marines. Their exact ranks have not been made public.
By Friday, the NCIS had identified and interviewed all four of the Marines appearing in the video. At the time, they were filmed urinating on the bodies, the four were members of the 3rd Battalion, 2nd Marines, which fought in the southern Afghan province of Helmand for seven months before returning to their home base at Camp Lejeune, N.C., last September.
Two of the four, plus the commander of the battalion, had moved on to other assignments before the video appeared on the Internet, according to Marine Corps officials who spoke on condition of anonymity in order to discuss an active investigation. The Marines' names have not been made public.
Waldhauser named three-star Gen. Steven Hummer, to do an internal Marine Corps investigation, which is in addition to a criminal probe under way by the Naval Criminal Investigative Service.
Waldhauser will decide what to do as a result of the investigations.
In Afghanistan, a senior US commander issued a letter to all personnel in the international coalition that is fighting the war, explicitly reminding them of the need to respect the dead.
"Defiling, desecrating, mocking, photographing or filming for personal use insurgent dead constitutes a grave breach of the LOAC (laws of armed conflict), violate basic standards of human decency and can cause serious damage to relations with the Afghan government," Army Lt. Gen. Curtis M. Scaparrotti wrote. He ordered all commanders to remind their subordinates of their duty to comply.
In its first public statement about the probe, the NCIS said Friday the probe is in its "very early stages." NCIS communications director Maryann B. Cummings said all four Marines are in the U.S., but she provided no other details about them. She said investigators are looking for information about those who created the video and posted it on the Internet.
The video itself is being studied for clues with the use of NCIS "computer forensic techniques," she said without elaborating.
Keep up to date on breaking news: Follow us on Twitter @nbcsandiego, fan us on Facebook, sign up for our breaking news e-mail alerts or text SDBREAKING to 622339 to receive text messages for local breaking news. (For more info, text HELP. To end, text STOP. Message and data rates may apply.)