It is a story that shocked the San Diego and the nation -- an elderly woman brutally beaten, kidnapped and driven around in the cargo area of her own car for 26 hours.
Hearing 76-year-old Sandy Herbst-Venge recount the horrible details at the trial of one of the accused on Wednesday was heart wrenching.
"I remember asking God to either get me out of that situation or just let me die because I didn't want to go through that anymore," she testified.
The terrifying ordeal allegedly happened at her La Mesa home Dec. 8, 2008, after she had been kind to someone who asked to use her phone.
"I pointed to the telephone and I turned around to walk away. That's when he grabbed me from behind with his arm, like this, and he choked me and I couldn't get away," Herbst-Venge said.
Now 20 years old, Jeffrey Edward Nelson is accused of attempted murder and torture.
The prosecution says he sold a vacuum cleaner to Herbst-Venge six weeks prior and then returned to her home twice on Dec. 8. The second time he allegedly attacked her from behind and choked her until she was unconscious.
"It was so tight I tried to get away and I was moving my feet real fast. I remember I couldn't understand why this was happening and then I just passed out," she testified.
When she awoke, she found herself bound and gagged with duct tape in her home and then was dragged and put in the cargo area of her own car.
"My ankles were taped together. My knees were taped together. My wrists were taped together, and they were taped around my waist and stomach so I really couldn't move my hands that much," Herbst-Venge said.
She was allegedly driven around for hours, denied water and punched in the face.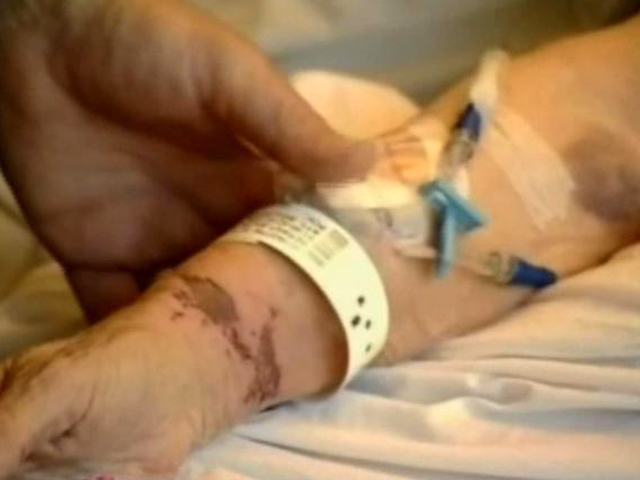 "Jeff hit me on one side, hit me so hard I could see fist coming, It was so scary," Herbst-Venge testified.
The defense attorney did not cross-examine.
Herbst-Venge was found when a sheriff's deputy pulled up behind the car after the driver ran a red light.
Nelson has already pleaded guilty to other counts stemming from this alleged incident. Another teenager will also stand trial.