Thousands gathered at Poway High to remember a beloved daughter, sister, friend, peer counselor and to some a stranger whose tragic death has shaken their soul.
"I just have to take this in for a minute," Chelsea's mom Kelly King said tearfully.
As she caught her breath, she told the crowd how she wakes up every morning and has to remember how to breathe and how to put one foot in front of the other.
"Just as I feel both these tasks are beyond my capabilities, I hear Chelsea. She's saying 'come on mom, we have important things to do'," Kelly King said.
And so their conversation begins, she explained to the crowd.
"I tell her, ' angel, I don't know how or where to begin. And she tells me, 'mom, look around you. Take in all the beauty we have around us and help other people see it as well. Watch the sunrise and see all the hope it brings with each new day. Let the music that I've always found so much joy and beauty in raise your spirits and allow you to soar'," she said.
Chelsea's younger brother, Tyler King, said he's been asked a question a lot this week.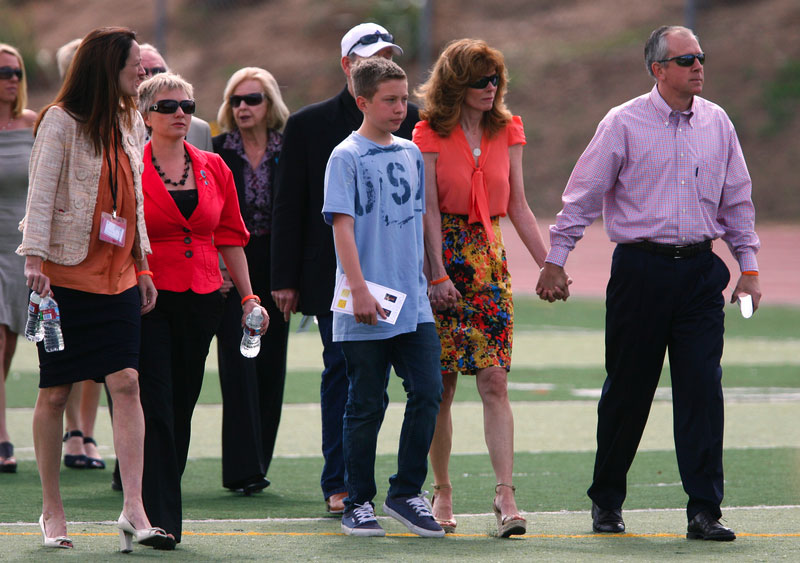 "That is, 'are you okay?' I want to say I'm okay, but I'm not okay because the best thing in my life has been taken away from me, it was Chelsea. But her spirit is so large that it defeats death and so she's still right here with all of us," he said.
He stole hearts as he fondly recounted all the great times he had with his sister like Christmas, Halloween and Easter. He recalled that Christmas was their favorite holiday and remembered how they used to look for Santa.
"She thought she saw him out of her window, because we saw Christmas lights, so of course we thought that was Santa. So she gets really excited and starts running around the house going 'Santa, Santa, Santa'," he said.
Tyler recalled how Chelsea grabbed a plate of cookies for Santa but dropped it. She was devastated.
"Then last Christmas my dad got my mom home videos and we have that on film and the real reason for her dropping the cookies was me," Tyler said laughing.
He had lifted his arms in excitement and hit the plate out of her arms.
The crowd chuckled as Tyler recalled his memories with a sparkle in his eye and love in his heart.
As Chelsea's father took the stage, he made a gesture.
"To all the Poway kids that knew Chelsea extremely well," Brent King said clasping his hands, twisting his arms and bowing his head. "Chelsea's way of relieving stress and I needed a bit."
Some of the crowd cheered and knew exactly what he meant. An inside joke, with those who knew her best.
"As a father, as a parent, you dream of watching your children grow, experience, learn, challenge and embrace life. You imagine their college days, wonder who the person of their dreams is and what type of life they will build together. You never realize that as a parent you also sign up for pain."
He asked how do we as a community make sense of this senseless act. Chelsea could have run at a different park that day. She could have taken a different trail, at a different time.
"But that wouldn't change the senseless act, just the victim. And we would never wish this pain on another family," Brent King said.
When the tragedy began to unfold, he said he needed to make a choice.
"I could choose despair, probably the easiest choice. I could chose rage of which I have enough of that in me to walk through the deepest parts of hell a thousand times. Or I could choose hope. Because of you, I chose hope," he said.
He promised to channel his rage and commit to spending his life making society safe from what he calls the incurable evil.
"Known sexual predators are not curable. The way in which as a community and a society, we have chosen to allow them to still live within our neighborhoods, is incomprehensible," he said. "This issue is clear. It's not defined by race, gender, age, religion, political affiliation or income. It's about protecting our children from evil. Pure evil."
Poway High School Principal Scott Fisher, speaking from a stage festooned with sunflower bouquets, told the crowd that the events of the two weeks since Chelsea's disappearance and the discovery of her body have filled the hearts of everyone at the school, and "millions who never had the privilege of knowing Chelsea."
"The events of the past two weeks have torn at the hearts and emotions of every one of us in this stadium and people across the country," Principal Fisher said.
Family, friends, classmates and throngs of others sat beneath her giant image over the football stadium grandstand Saturday afternoon, wiping away tears and remembering a girl who has touched so many lives.
"To those who Chelsea loved so much, her friends and follow class mates at Poway High School, she loved you dearly and she learned so much from you. Memories she will cherish forever and ever and ever," Chelsea's uncle Chuck McCauley said. "On Feb. 25 our lives changed dramatically and will remain changed forever. Our hearts were shattered. Our spirits were dampened and our faith was tested. Because of each and every one of you who are here today and thousands and thousands of others around the globe, our hearts are mending. Our spirits are being lifted and our faith has been restored."
He thanked a community he said is like no other community -- a community that tirelessly searched for his niece and surrounded his family with support and love.
"The outpouring of sympathy, assistance and support that has and continues to be unprecedented. You have touched our lives and will be in our hearts forever," McCauley said.
He thanked the search and rescue team, the volunteers, law enforcement, care givers, churches, the media and the business community.
"You never lost your focus, you never gave up, you never lost hope and while we didn't get the end result that all of us prayed for, Chelsea and her entire family will be forever grateful in your love and support," he said.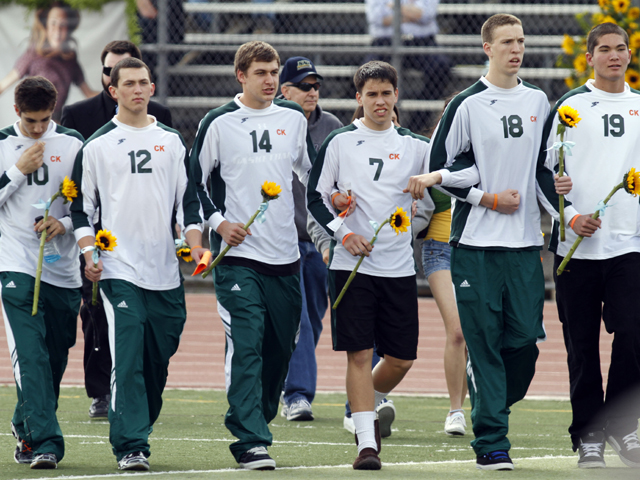 Chelsea was a straight-A student who ran on the cross-country team, played French horn in the San Diego Youth Symphony and was active in her school's peer counseling program.
"Chelsea wanted to make a difference in this world and she clearly did. Look around you. This is the difference that a young woman like Chelsea King makes in this world. It is up to us, all of us, to ensure that the shining light that Chelsea brought to this campus, to this community and to this country will never be extinguished," Principal Fisher said.
Chelsea was a tireless volunteer in school and community activities, whether working at a prom for special education students or packaging food for needy families in Africa.

"Such was the magic that Chelsea brought to this world. A tragedy like this could easily tear apart even the strongest of communities, yet while we mourn, Chelsea's passing has strengthened the bonds of this special community more than anyone could ever imagine," Principal Fisher said.
She had applied to 11 colleges and aspired to a career that would combine her interests in writing and the environment. Although her aspirations were cut short, her parents say her light still shines strong.
"Chelsea loves words. The right word at the right time is so important to her. She chose a word for me to share with you today that personifies who Chelsea is. It's a simple but complex word and a very challenging word, much like her," Brent King said.
The word is give.
"I am asking each of you to think about Chelsea's word. I'm asking each of you to give. Give your time, even if it's one hour a month. Give your voice, even if it's one email or vote or signature on a petition. Give your energy to help Chelsea's light shine brightly," he said.
He finished up with four simple words for his daughter.
"I love you angel," he said.