The Deputy Sheriff's Association hosted a special benefit motorcycle ride for one of their own Saturday – a beloved deputy wounded in the line of duty.
Detective Ali Perez, along with Sgt. Craig Johnson, were shot and seriously injured by suspect Dan Witczak on Sept. 25 during an extensive shootout in Lakeside.
Johnson has been released from the hospital and is recovering at home. Perez is still recovering at the hospital, making slow by steady progress after a slew of surgeries.
He sustained several critical injuries from the shootout, including wounds to the stomach, shoulder and vital arteries in his arm.
On Saturday morning, hundreds of Perez's colleagues and friends took to their motorcycles for the "Ride for Ali" benefit, raising donations for the wounded deputy's family.
The ride began at 10 a.m. at the Sweetwater Harley Davidson on Hoover Avenue in National City. RIders then made their way from the coast to the mountains, ending at the Deputy Sheriff's Association office in Poway.
Along the way, riders made a very important pit stop and passed Sharp Memorial Hospital where Perez is currently recovering.
Accompanied by loved ones and hospital staff, Perez waited outside and watched the motorcyclists cruise by. He stood there smiling, waving and holding an American flag as his friends and supporters rode through. His colleague, Sgt. Johnson, was also there.
Perez was deeply moved by the love and support at Saturday's motorcycle rally.
"It's overwhelming. I'm humbled and grateful and everybody has been fantastic. The way the community has come together to support me – it's just awesome," Perez told NBC 7.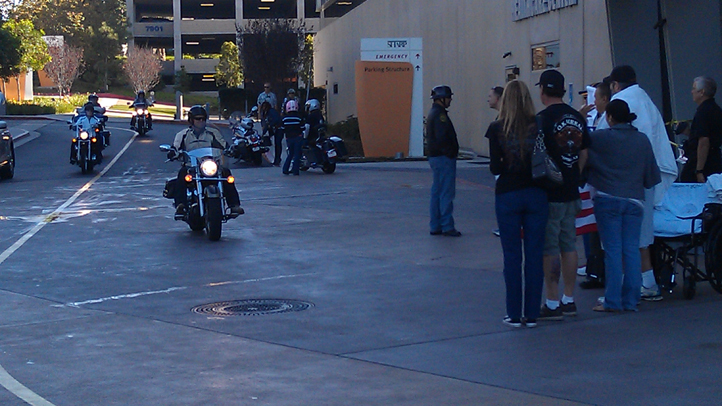 According to the Deputy Sheriff's Association, Perez has always enjoyed riding his motorcycle along the San Diego coast, so the ride was quite personal and meaningful.
As an avid biker, Perez said the special ride truly lifted his spirits.
"We call it rolling thunder. It's awesome. You just hear bikes, and those who ride understand. It uplifts your spirit and makes you feel great. My attitude has been positive but to hear the bikes revving up, it's a little something extra," said Perez.
The ride was also special for many of the motorcyclists, who believe Perez deserved the rally in his honor.
"I hope it brings tear to his eye – a happy tear," said one rider.
"[Perez] is a big fighter, [with a] big heart. He loved ones his family and [wasn't] ready to leave his family," said another friend at the ride.
Perez was extremely grateful for Saturday's fundraiser. The ride alone easily raised more than $6,000 for the wounded deputy and his family.
All proceeds from the ride are going toward the Detective Ali Perez Support Fund set up by the Deputy Sheriff's Association though San Diego County Credit Union.
Perez faces many months of recovery in the hospital and it is unknown if or when he will return to work, Association officials said. His injuries sustained during the Lakeside shootout have left his family under financial hardship, including his two daughters who are currently in college.
Those who would like to donate toward the Detective Ali Perez Support Fund can do so by visiting this website.

Published at 6:20 AM PST on Nov 5, 2012 | Updated at 6:21 AM PST on Nov 5, 2012