James Holmes, the suspect in a deadly rampage inside an Aurora, Colorado theater, once attended high school in San Diego according to officials.
Twelve people were killed and 58 people were injured in a shooting during a midnight screening of the new Batman movie "The Dark Knight Rises" in the suburb of Denver.
Federal law enforcement officials say they arrested James Holmes, 24 behind the theater minutes after they received hundreds of 911 calls from witnesses.
Holmes surrendered without incident near his parked white Hyundai.
Aurora Police Chief Dan Oates said investigators found three weapons inside the car and one in the theater. They include an AR-15 semi-automatic rifle, a 12-gauge shotgun and two .40 Glock handguns.
Holmes also set off two incendiary devices to distract the crowd Oates said. He also said investigators have not yet calculated how many rounds were fired but described the number as "many."
During the shooting in Theater 9, some rounds penetrated into an adjoining theater officials said. At least one person inside the adjoining theater was hit.
Oates said the suspect's apartment was "booby-trapped with various incendiary and chemical devices and apparent trip wires," He described the scene as active and difficult and said police could be on the scene for hours or days.
The former medical school graduate student was dressed in all in black wearing a tactical ballistic vest, ballistic leggings, ballistic helmet, a groin protector, a throat protector and a gas mask when he was arrested according to officials.

"We are confident that he acted alone," said Oates.
Holmes, a Westview High School graduate, attended UC Riverside where he graduated a BS in neuroscience in 2010. He then went to Colorado where he was pursuing his graduate degree up until a month ago.
Neighbors outside the Holmes family home on Sparren Avenue in the Rancho Penasquitos area of San Diego remembered Holmes as a quiet, shy teenager who graduated in 2006 from the high school.
Sumit Shah, 24, who attended Westview with Holmes said he remembered Holmes as smart and witty once he got to know you.
"It's kind of weird to see him go from the guy I knew to somebody who would kill 12 people and counting," he said.
Family friends identified Holmes from his senior photo in a Westview High School yearbook from 2006. The image is pictured left next to the official photo released from the University of Colorado.
The University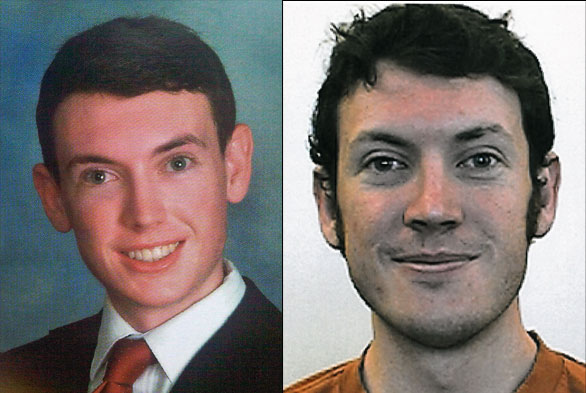 of Colorado Medical School said Holmes had enrolled there in June 2011 but was in the process of withdrawing from the graduate school of neurosciences in the last month.
San Diego police officers were called to Sparren Avenue once television news crews began knocking on the door of James Holmes' family according to SDPD Lt. Andra Brown.
Officers escorted James Holmes' father from the home before 8 a.m. He quietly walked to a car driven by police officers while carrying a leather computer bag and a red duffel bag.
The man was spotted standing in line for security at Lindbergh Field with a plane ticket in his pocket. He was asked repeatedly to explain his relationship to James Holmes but refused comment.
Holmes' mother was still inside the home according to Brown.
"There have been family friends who have come by to offer support at this time," she said.
The family has had no contact with James since the incident, Brown said.
The Holmes family statement said "Our hearts go out to those who were involved in this tragedy and to the families and friends of those involved. We ask that the media respect our privacy during this difficult time. Our family is cooperating with authorities in both San Diego, California and Aurora, Colorado. We are still trying to process this information and we appreciate that people will respect our privacy."
Get more coverage in our special section: The "Dark Knight" Massacre
David Casper, owner of Hillcrest Pawnbrokers, said Holmes came into his store to discuss firearms within the last few months. Casper recognized Holmes when images of him appeared following the incident.
Casper said the type of weapons that Holmes talked about were weapons Casper would normally recommend to customers for home protection.
Meanwhile, a Defense Department official confirmed two sailors and one airman were among those wounded in the shooting. One sailor was still unaccounted for in the Colorado shooting.
A check of court records in San Diego County shows James E. Holmes has no criminal record - not even a traffic ticket according to San Diego Superior Court spokesperson Karen Dalton.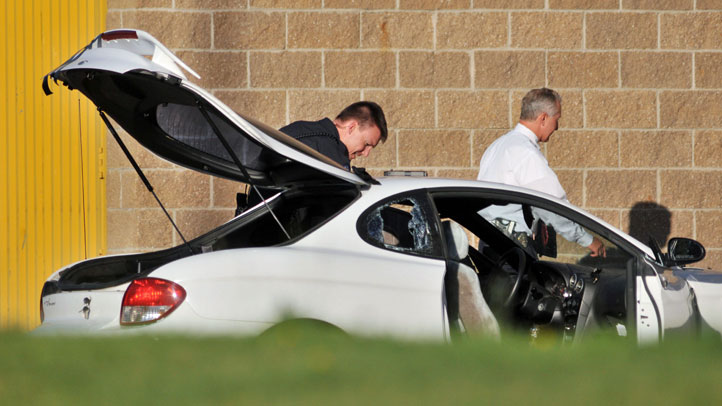 Chief Oates confirmed the only criminal record Holmes had with his department was a traffic citation issued in October 2011.
University of California Riverside confirmed Holmes attended the college from Fall 2006 through Spring 2010.
Poway Unified School District Superintendent John Collins released a statement sending his deepest condolences to the victims and their families on behalf of the school district.
San Diego Mayor Jerry Sanders said he wanted to call Aurora Mayor Steve Hogan and offer his condolences.
"My heart goes out to the victims' families and those who didn't die," Sanders said after a public appearance Friday.
"Having gone through a massacre in 1984 as a SWAT commander, I know the turmoil that that's going to put the community in."
On Friday evening, Chief Oates confirmed that there are actually 70 casualties, not 71 as originally reported by officials.
Oates said the last of the bodies were removed from the crime scene at the movie theater just after 5 p.m.
On Saturday night, Aurora Police Sgt. Cassidee Carlson confirmed that Holmes was still considered the lone suspect in the Colorado mass shooting.
"There are multiple unconfirmed and inaccurate news reports about a second suspect. In regards to those reports: An associate of Holmes was interviewed this evening. There is no reason to believe that he is involved. Further details of this investigation will not be released at this time," said Carlson in an email statement.
Follow NBCSanDiego for the latest news, weather, and events:iPad App | iPhone App | Android App | Facebook| Twitter | Google+ | Instagram | RSS | Text Alerts | Email Alerts