Flames destroyed a National City restaurant overnight, the same restaurant where someone was shot after a fight broke out at a World Cup soccer celebration earlier this year.
When firefighters arrived to the Rincon Del Mar restaurant just after midnight, they found flames shooting out of the front windows.
Fire crews broke through the front door and opened a hole in the roof to help douse the fire in less than 20 minutes, saving nearby businesses.
Broken glass found among the scorched stools and other furniture led investigators to being an arson investigation.
Firefighters sifted through with flashlights and took pictures to determine the cause.
While they say the fire began just on the inside of front door, they haven't identified who may have sparked the fire or what they used to do so.
The owner was on the property and appeared to be distraught.
National City Fire Marshal Robert Hernandez said police have begun questioning possible suspects.
Witnesses told investigators that they saw three men running away from the scene but so far there are no leads.
WATCH: Fire Damages Rincon Del Mar Restaurant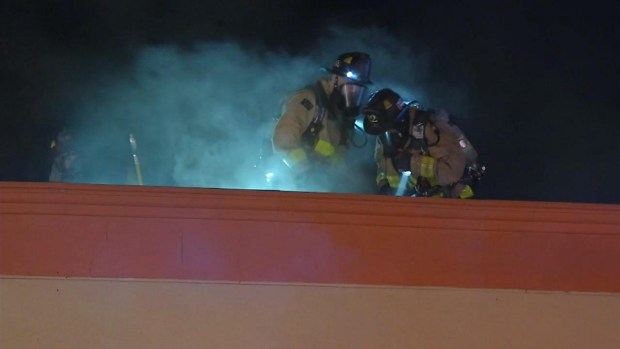 In June, a man was shot several times on the sidewalk outside the Rincon Del Mar restaurant. The shooting began as an argument inside the restaurant where a a World Cup after-game celebration was taking place.