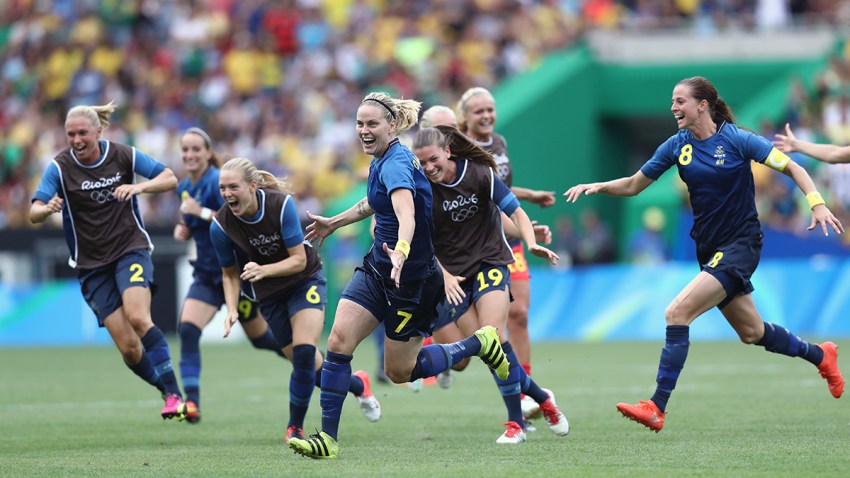 NBC 7 looks over the massive schedule of events from the 2016 Rio Olympics for Friday, August 19 and brings you seven moments to watch:
1. SWEDEN TAKES ON GERMANY IN GOLD MEDAL WOMEN'S SOCCER MATCH
After knocking the U.S. team out of the Olympics on penalty kicks, Sweden defeated host Brazil - also on penalty kicks. Now the Swedes are one win away from gold. The only thing standing in their way: Germany.
HOW TO SEE IT: Catch the women's gold medal match between Germany and Sweden live online and on NBC Sports Network beginning at 1:30 p.m. PT.
2. USAIN BOLT GOES FOR MORE GOLD
The Fastest Man Alive will compete in the 4x100 meter final late Friday. Usain Bolt has already electrified the Rio crowd by winning the 100 meter dash. (Editor's note: he races in the 200m final late Thursday)
HOW TO WATCH: See Bolt race live online or during NBC's primetime broadcast. Coverage of track and field events begins at 4:10 p.m. PT. Bolt's final Rio race is scheduled for 6:35 p.m. PT.
3. US WOMEN'S WATER POLO TEAM FACES ITALY FOR GOLD
The U.S. women's water polo team looks to defend its London title against Italy. It's the U.S.'s fourth time fighting for gold in five Olympic appearances. The U.S. is looking to become the first women's water polo team to win back-to-back gold medals. They have medaled in every Olympics since women's water polo has become part of the Games.
HOW TO SEE IT: Watch the gold medal match live online or on NBC's daytime programming beginning at 11:30 a.m. PT.
4. THE U.S MEN'S BASKETBALL TEAM COMPETES IN THE SEMIS
After some early scares, the U.S team rebounded Wednesday in a rout over Argentina, 105-78, to advance to the semifinals against Spain. Now the U.S. team, led by Carmelo Anthony, Kevin Durant and Kyrie Irving, is one win away from playing for the gold.
HOW TO SEE IT: Watch Team USA live online or on NBC Sports Network at 11:30 a.m. PT.
5. BOXER CLARESSA SHIELDS IN THE WOMEN'S MIDDLEWEIGHT SEMIFINALS
Claressa Shields has become a force to be reckoned with after making history at the 2012 London Olympics, becoming the first American woman to win gold in the sport.
Now 21, Shields is more confident than ever as she attempts to defend her Olympic championship. She'll face Dariga Shakimova of Kazakhstan on Friday.
HOW TO SEE IT: Catch Shields live online in the middleweight semifinals. Boxing coverage begins at 10 a.m. PT. Shields is scheduled to compete at 11:30 a.m. PT.
6. TAEKWONDO LEGEND STEVEN LOPEZ COMPETES IN FIFTH OLYMPICS
A four-time Olympian and five-time world champion, Steven Lopez is the most decorated member of the United States' "First Family of Taekwondo." Lopez rose to prominence with a gold medal at the Sydney Olympics in 2000, the first year that taekwondo was officially added to the program. His siblings Mark and Diana soon joined him as Olympic medalists at the 2008 Beijing Games.
Now 37, Lopez hopes to avenge his defeat at the 2012 London Olympics, where he attempted to fight with a broken leg and was eliminated in the opening round of competition.
HOW TO SEE IT: Taekwondo coverage will appear on NBC Sports Network.
7. JORDAN BURROUGHS BEGINS QUEST FOR BACK-TO-BACK GOLD
Before winning a gold medal at the 2012 Games, Jordan Burroughs had one of the most dominant collegiate wrestling careers ever at the University of Nebraska, compiling undefeated records in 2009 and 2011 en route to NCAA national championships. In 2011, Burroughs became just the fourth wrestler ever to win an NCAA championship and a world title in the same year. He opened his international career with 69 straight victories, a record unmatched in U.S. wrestling history, and entered the Olympics with a 124-2 career record.
HOW TO SEE IT: Watch Burroughs live online as he competes in the elimination rounds of the men's freestyle competition beginning at 9 a.m. ET. Wrestling coverage will also appear on NBC Sports Network and CNBC.