The Junior World Golf Championships finished up in San Diego this week and the shot of the entire tournament may have been one that didn't even count.

During a practice round for the Boys 6-Under division at Colina Park Golf Course, Oceanside's Jaden Nacional stood on the tee at the 15th hole during a practice round … pulled his 7-irons … and nailed it 62 yards for a hole-in-one.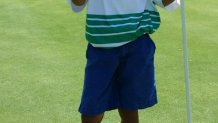 Jaden, who is six years old, was wearing his lucky PGA Junior League Golf jersey when he made his perfect tee shot. Jaden finished the tournament in a tie for 15th place but the ace is something he will remember forever.

If you'd like information on PGA Junior League Golf to get your youngster started click here.