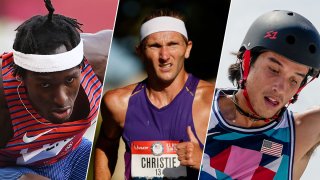 From men's park skateboarding (there were a couple of San Diego faces taking on those ramps) and track and field finals (Will Claye, we see you) to U.S. women's soccer and a San Diego native competing in race walking, Day 13 of the Tokyo Olympics was a fun one to watch.
Here's are the results from our list of five events to watch at the Tokyo Olympics Wednesday night into Thursday morning, which was Aug. 5 in Tokyo and from 4 p.m. PT on Aug. 4 to 7 a.m. PT on Aug. 5 in San Diego time.
1) Skateboarding in Tokyo: SoCal Athletes Compete in Men's Park
It was a strong showing for San Diego at the final skateboarding event at the Tokyo Olympics.
Australian teen Keegan Palmer claimed the first Olympic men's park skateboarding gold medal in history on Wednesday. The 18-year-old was born in San Diego but moved Down Under at an early age and turned pro at 14.
He obliterated the Olympic field, putting up a 94.04 on his first run and a 95.83 on his third. No one else cracked an 87.
American 21-year-old Cory Juneau worked his way up from the eighth and final spot in qualifying to snag bronze with an 84.13 on his best run. Juneau, a bronze medalist at the 2017 X Games, was also born in San Diego.
The silver medal went to one of the "old men" in the field, 26-year-old Pedro Barros of Brazil, who scored an 86.14.
The women took the park skateboarding event on Tuesday. That event featured three Team USA Olympians with ties to San Diego County: Bryce Wettstein, Brighton Zeuner, and Jordyn Barratt.
San Diego County resident Heimana Reynolds also competed Wednesday night but did not pass the qualifying round.
By the way, before Tokyo, Reynolds, 22, joined our NBC 7 Olympic Dreams: San Diego to Tokyo podcast to talk about training for the Olympics in San Diego's North County and the debut of skateboarding in the Olympics. You can listen to the conversation below:
Listen/Subscribe to NBC 7's Olympic Dreams: San Diego to Tokyo podcast wherever you enjoy listening to podcasts. On each episode, NBC 7 News Today anchor Steven Luke will sit down with athletes in their prime, each with their sights set on one thing: representing Team USA in Tokyo this summer. How will they achieve their Olympic dreams?
One person who was watching the park competition closely is skateboarding legend Tony Hawk, who is serving as an NBC Olympics correspondent during the skateboarding events at the Tokyo Olympics.
Hawk spoke with NBC 7 about what it feels like to watch his beloved sport take the spotlight on the world's biggest sports stage. Hint: it feels pretty darn great.
2) Track and Field Men's Triple Jump Final: Eyes on Will Claye
For the second consecutive Olympics, Americans Ryan Crouser and Joe Kovacs finished first and second respectively in the men's shot put event. Crouser beat his own Olympic record, throwing the shot put 23.30 meters on his final attempt to take the gold. New Zealand's Tom Walsh won bronze, which he also took in 2016, making it a repeat across the board on the winner's podium. It is the first time that has happened in a track and field event in Olympic history.
Grant Holloway finished second to claim silver in men's 110m hurdles, posting a time of 13.09 despite being the overwhelming favorite to win it all. The world champion blazed to the quickest time in the hurdles semifinals, but was unable to hold on to the top spot in the final. Hansle Parchment of Jamaica won gold in the upset, posting a time of 13.04, and handed Holloway his first loss of the year. Jamaica also won gold in the 2016 Rio Olympics.
The U.S. advanced in the women's 4x100m relay, finishing second overall with a time of 41.90. Team USA, which comprised of Javianne Oliver, English Gardner, Teahna Daniels and Aleia Hobbs finished ahead of Team Jamaica. The heats were missing the star power of Allyson Felix, Shelly-Ann Fraser-Pryce and reigning women's 100m and 200m champion Elaine Thompson-Herah.
Unfortunately, the men did not fare as well. Team USA, which included Trayvon Bromell, Ronnie Baker, Fred Kerley and Cravon Gillespie, finished sixth in Heat 2 (eighth overall) with a time of 38.10.The U.S. men's team hasn't medaled in the 4x100m relay since earning silver in 2004.
Vashti Cunningham was the only member of Team USA to advance in women's high jump. Cunningham automatically qualified after posting a jump of 1.95m on her third and final attempt. She placed 13th in high jump at the 2016 Rio Olympics, and is a favorite to win it all at Tokyo.
Team USA's Will Claye, who trains in Chula Vista, finished fourth in men's triple jump. His longest jump was 17.44m on his third attempt. The two-time silver medalist looked to claim gold for the United States with the absence of two-time Olympic triple jump champion Christian Taylor, who did not compete due to a ruptured Achilles tendon. Pedro Pablo Pichardo of Portugal won gold with a jump of 17.98m on his third attempt.
Claye has two silver medals in the triple jump and a bronze in the long jump. He is the highest-ranked athlete in the triple jump final, while Donald Scott is No. 5. Claye's personal best (18.14m) is .05m longer than the Olympic record.
Michael Norman – who was born in San Diego, lives in Murrieta, California, and went to the University of Southern California – competed in the men's 400m final finished fourth to miss the podium.
Michael Cherry did not medal either. This is only the second time the U.S. has failed to win a medal in the men's 400m in non-boycotted Games since 1924. The other instance was 2012 in an American-less final.
3) U.S. Women's Soccer Team Beats Australia to Win Bronze
U.S. women's soccer is back to the Olympic podium.
The team wasn't standing atop the perch it expected, nor were the medals around the players' necks the color they hoped, but they made an important return to the podium after failing to get there in 2016 for the first time.
It was two of the team's gold medal-winning veterans who helped get them there Thursday. Megan Rapinoe and Carli Lloyd each scored two goals to lead the U.S. to a 4-3 win over Australia in the bronze medal game at the Tokyo Olympics.
It was the first bronze medal for the USWNT. The U.S. won gold in four of the first five Games since women's soccer became an Olympic sport in 1996, taking silver during the 2000 Sydney Olympics.
That history of sheer dominance is what made the team's quarterfinal loss to Sweden during the 2016 Rio Olympics so stunning and the return to the medal podium so necessary, even if not for gold.
It was fitting that Lloyd, who became the team's all-time leading scorer in what could be her final Olympic game, and Rapinoe, who stressed the importance of winning a medal even if it's not the color the team wanted or expected, were the two players who found the back of the net.
4) 20km Race Walk Finals: Grossmont High School Alum Nick Christie Racing for Gold
Three race walking events take place this week at the Tokyo Olympics – all held in Sapporo, more than 500 miles away from Tokyo, due to concerns over the heat.
The Olympic events include the men's 20km race walk, the men's 50 km race walk, and the women's 20 km race walk.
Competing for a medal in the men's 20km race walk early Thursday was Nick Christie, a San Diego native who went to Grossmont High School and Cuyamaca College.
Christie finished with a time of 1:34:37, which was about 13 minutes behind gold medalist Italian Massimo Stano and silver and bronze medalists from Japan Koki Ikeda and Toshikazu Yamanishi.
Christie's girlfriend, Robyn Stevens, is also competing in Tokyo – in the women's 20km race walk Friday.
By the way, if you're wondering how race walking works in the Olympics, here's a little explainer on the sport.
There are a few major differences between running and race walking beyond the speed. In race walking, one foot must always be in contact with the ground. A violation of this rule is called "lifting." In addition, rules state that an athlete's advancing leg must remain straight from the point of contact with the ground until the athlete's passes over it.
Judges observe the race and caution competitors if it appears a competitor is breaking the above rules. Three violations during a race will lead to disqualification.
5) Wrestler David Taylor Beats Rival for Wrestling Gold
American David Taylor mounted a comeback against Iran's Hassan Yazdani to win gold in the men's freestyle 86kg event.
Down 3-2 with less than 20 seconds remaining, Taylor was able to get on top of Yazdani, the 2016 Olympic gold medalist, and notch the critical two points to give him the lead, and then let the clock tick away.
Taylor and Yazdani have a history that dates back to 2017. Taylor, nicknamed the Magic Man, upset Yazdani in their first matchup at the 2017 World Cup, fresh off of Yazdani's gold in Rio. Their second matchup came at the 2018 world championships, where Taylor came out on top as well. Yazdani had not lost a match since then, but Taylor made it a perfect 3-for-3 against the Iranian with the win in Tokyo.
The gold medal match was back-and-forth throughout. Yazdani earned a point early after Taylor failed to go for a point attempt. Taylor then got a two-point takedown to give him a 2-1 lead.
Yazdani secured back-to-back points to regain the lead by forcing Taylor out of bounds before the American was able to get the comeback in the final seconds of the match.