From free, outdoor concerts and a colorful art village, to a stroll down one of Balboa Park's many trails, there are so many ways to enjoy the historic urban park.
Spanning nearly 1,200 acres, Balboa Park is one of San Diego's most recognizable landmarks. Here's a look at some things to do if you're visiting the attraction.
Free Ranger-Led Tours
If you want to get a lay of the land under the guidance of experts, take one of Balboa Park's free ranger-led tours. The one-hour excursions meet at 11 a.m. every Tuesday and Sunday at the Visitor Center (1549 El Prado), tucked inside the House of Hospitality.
"There are a wide range of tours that you can join, for free," Tomas Herrera-Mishler, CEO and president of the Balboa Park Conservancy told NBC 7. "Some are led by rangers; some are led by Subject Matter Specialists; that's a really fancy way to say people who really know what they're talking about."
Rangers will talk about the history of Balboa Park, its unique buildings and architecture, the landmark's botanical treasures, and the importance of conserving San Diego's crown jewel.
"It's an opportunity to see some of the park, from an expert's view point," Herrera-Mishler added.
[G] Things to Do at Balboa Park
Spreckels Organ Pavilion Sunday Concerts
At the heart of Balboa Park stands the Spreckels Organ Pavilion. The site houses the Spreckels Organ, which boasts more than 5,000 pipes – varying in lengths, from the size of a pencil to 32-feet – making it the largest outdoor pipe organ in the world. The organ is kept inside a vaulted structure; the sounds of the pipes can often be heard reverberating through the center of Balboa Park.
Since 1917, San Diego has invited civic organists to perform weekly at the pavilion. The free concerts are at 2 p.m., every Sunday. Herrera-Mishler said this tradition is a favorite among locals and visitors alike.
"On Sundays, at 2 p.m., there's a wonderful series of concerts where you can come and hear our 5,000 pipes being played – not all at once – by wonderful, expert, local organists," he explained.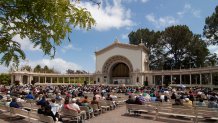 In the summer, typically on Monday evenings, Balboa Park invites internationally-renowned organists to play at the pavilion, too.
Herrera-Mishler said the venue is made to hold a large crowd (it's also used as the center of Balboa Park's large-scale, annual holiday event, December Nights). The more, the merrier.
"There's a lot of space; I think there's seating for about 3,000 people," he explained. "It's very family-friendly. There's plenty of parking adjacent to the pavilion, or you can park at Inspiration Point and take a free shuttle."
A little history: the Spreckels organ and pavilion were donated to the City of San Diego on Jan. 1, 1915, by brothers John D. and Adolph B. Spreckels, ahead of the Panama-California Exposition. Today, a large plaque can be seen on the pavilion stage, bearing the proclamation of the brothers' donation.
Panama 66 All-Ages Jazz Concerts
Located at the San Diego Museum of Art (1450 El Prado) in the Plaza de Panama is Panama 66, a hip eatery with views of the museum's May S. Macy Sculpture Garden. In addition to tasty farm-to-table dishes, craft brews on tap and cocktails inspired by the museum's exhibitions, Panama 66 hosts all-ages jazz concerts in its courtyard, typically on Wednesdays, from 8:30 p.m. to 11:30 p.m.
Herrera-Mishler said he often attends those concerts with his family or friends.
"[It's] just an amazing ambiance. You go and your drinks or your food and they bring it right to your table. It is a wonderful way to spend an evening in Balboa Park," he said.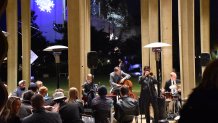 He said listening to the smooth sounds outside, set against the backdrop of the San Diego landmark, is a truly "incomparable setting."
Spanish Village
Truly a hidden gem of Balboa Park is the Spanish Village Art Center (1770 Village Place), a space filled with quaint studios occupied by working artists.
The Spanish Village was built in 1935 for the park's California Pacific International Exposition, and designed to resemble an old village in Spain. During WWII, the U.S. Army used the area for temporary barracks. In 1947, it was reclaimed by artists.
Today, Herrera-Mishler said it's supported by 200 artists.
"It's just so charming," he said. "There are all these working artists there and you can come see them doing sculptures, pottery, painting – you name it, we've got it there. It's an incredible place."
Visitors can enjoy daily art demonstrations in the colorful courtyard, and also take part in classes and workshops throughout the year. Special events are held here, too, including art sales. Musicians are often heard performing in the Spanish Village on weekends.
Herrera-Mishler said there's a great coffee cart there, too, if you need a little pick-me-up during your visit.
The Spanish Village is located near the giant Moreton Bay fig tree on Village Place; it's to your left if you're traveling down Park Boulevard, just before the San Diego Zoo parking lot. Admission is free.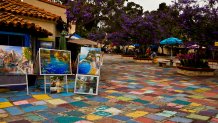 Botanical Building
One of the most photographed spots in Balboa Park is the Botanical Building and its lily pond and lagoon. Also built for the 1915 Exposition, the historic building is one of the largest lath structures in the world. Inside, the building boasts more than 2,100 plants – from cycads and ferns, to orchids, palms and everything in between.
"We have a wonderful collection of orchids that we cycle through there, so there's always something in bloom to enjoy in that amazing space," said Herrera-Mishler. "If you need somewhere to go and relax, and get some oxygen and cool off, that's a wonderful retreat."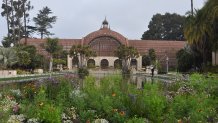 The Botanical Building is open, free of charge, every day except Thursday from 10 a.m. to 4 p.m. It's flanked by some grassy areas that could make an excellent spot for a break or picnic, too. If you hang around long enough, you may even see a duck or two waddling on the lawn.
"The Botanical Building is basically synonymous with Balboa Park," Herrera-Mishler added. "It is so gorgeous."
Bonus: Picture Perfect Picnics & Scenic Strolls
Of course, Balboa Park is also a great place to enjoy a relaxing picnic or take a scenic stroll.
Herrera-Mishler said there are plenty of good spots for those activities, including picnicking in the stunning, award-winning Inez Grant Parker Memorial Rose Garden located on the east side of Park Boulevard, across the pedestrian bridge adjacent to the San Diego Natural History Museum.
"[It has] all of these beautiful roses in bloom. It's one of the top rose gardens in the world," said Herrera-Mishler. "Bring your picnic, bring your family."
The Rose Garden features about 1,600 roses of more than 130 varieties, making for a truly sensational sensory experience. The garden is in bloom from March through December, with roses at their peak in April and May. The Rose Garden is maintained by a dedicated group of volunteers who tend to each and every bloom on Tuesday and Thursday mornings.
Herrera-Mishler said another prime picnic area is Pepper Tree Playground, located behind the Reuben H. Fleet Science Center.
"It's an incredible spot to come and hang out with the family. There's parking right next to the playground and plenty of lawn space to spread out and have a picnic – dinner or lunch with your family," he added.
As for walks in the park, there are dozens upon dozens of trails at Balboa Park.
"There are 65 miles of pathways and trails in this park," said Herrera-Mishler.
There are trails for all fitness and skill levels. Over in the west mesa, adventure seekers can hike down into the canyons. In the east mesa, there's a jogging trail that leads to Florida Canyon, which I makes for a great workout. On top of the mesa, there are nice, smooth pathways fit for everyone. Or, you can stroll through one of Balboa Park's 20 gorgeous gardens. Trail and garden maps are available at the Visitors Center.
"There are so many plant collections and opportunities to enjoy gardens here at Balboa Park," said Herrera-Mishler.
How to Get to Balboa Park: Pro Parking Tips
Public transportation, including the San Diego Metropolitan Transit System's (MTS) bus routes or trolley lines can help you get close to Balboa Park. To plan your public transit route, check out this MTS map.
If driving, Herrera-Mishler said there are plenty of parking spots in the park. You should keep in mind that Tuesdays are a particularly busy day at Balboa Park, as many museums offer free admission that day.
Still, Herrera-Mishler said parking shouldn't deter your plans to visit
"Don't believe the hype that there's nowhere to park. Okay, so you might have to walk a little bit or take the shuttle if it's a busy Tuesday," he said. "Don't use parking as an excuse not to come to your Balboa Park."
He recommends parking in the lot behind the San Diego Hall of Champions (2131 Pan American Plaza) or in the lot at Inspiration Point at Park Boulevard off Interstate 5. Free shuttles run at both parking lots, which drop visitors off at Plaza de Panama, in the heart of Balboa Park.
[G] 'Gate Houses' Restored at Balboa Park
No matter how one chooses to see the beauty of Balboa Park, starting at the Visitors Center will get you where you need to go. The center is open every day of the year and manned by knowledgeable, devoted volunteers who can help you plan your visit.
Herrera-Mishler said the Balboa Park Conservancy will continue to work with the City of San Diego to preserve and develop Balboa Park for generations to come.
"We still have a lot of park to develop, a lot of park to hand off to future generations, in better shape than we inherited it," he added. "San Diego can expect a nice, healthy future for this park."
Free or Cheap Things to Do in San Diego