Evacuation orders and road closures were lifted after the Skyline Fire had grown to 100 acres in Lawson Valley, just east of Jamul, Cal Fire San Diego said.
The fire was first reported at around 11:50 a.m. at the 17000 block of Skyline Truck Trail. By 12:16 p.m. the fire was at 5 acres but quickly grew to 100 acres.
By 3 p.m. the forward rate of spread was stopped at 100 acres and was 10% contained, Cal Fire said. By Sunday, the fire was 90% contained.
Evacuation orders were in effect for the area between 15000 block of Skyline Truck Trail to the 15000 block of Twisted Oak Road. It also included the area on Wisecarver Truck Trail, Cal Fire said.
A temporary evacuation point was established at Edwards Cinema at 2951 Jamacha Road. By 7 p.m., all evacuation orders and road closures were lifted.
SkyRanger 7 was at the scene that showed helicopters grabbing water from a nearby lake and making water drops. At times, the flames looked close to homes.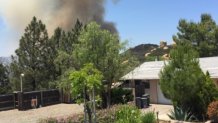 Lawson Valley resident, Tim Hillman was in downtown San Diego when he got a call saying the fire was burning close to his home.
"We know the drill. We've lived here for 30 years and this isn't the first time we've had to do this," said Hillman who has been evacuated several times.
He said he saw a big response from fire crews and as he was getting ready to evacuate he was told he didn't need to anymore.
Mike Lehnert, who lives in Lawson Valley, said he was very relieved that no structures were burned on his property.
"What I'm told is my property got hit with the retardant. I do have good defensible space down here and apparently there were no structures that burned," Lehnert said. "Our main concern was getting our people and animals out of there."
Two Cal Fire planes were at the scene dropping water, along with two San Diego County Sheriff Helicopters, and a San Diego Gas and Electric Sky Crane.
While there was no fire threat on the National Weather Service's threat index on Thursday, hot temperatures were still blaring down on San Diego County. A heat advisory expired at 7 p.m. on Wednesday.
This was the third wildfire that started on Thursday.
A fire started near the border of Santee and San Diego's Miramar neighborhood. The Miramar Fire had grown to 15 acres but crews had a handle on the blaze. It was about 50% contained by 4 p.m.
Border 7 Fire started in steep terrain near the U.S.-Mexico border southeast of the Otay Open Space Preserve. It quickly grew to 90 acres but the forward rate of spread was stopped at 6 p.m. and was 10% contained.
There were no immediate reports of structural damage or injuries.
No other information was available.
Please refresh this page for updates on this story. Details may change as more information becomes available.