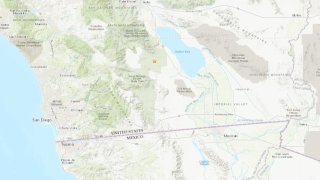 A magnitude 3.4 earthquake produced some light shaking Wednesday evening near Ocotillo Wells in the northeast corner of San Diego County, according to the U.S. Geological Survey.
Some weak to light shaking was reported in the nearby town of Thermal, the USGS said.
No damage or injuries have been reported.
Another faint earthquake was reported near San Clemente on the Fourth of July, according to the USGS. That quake was felt as far away as Spring Valley in San Diego County.