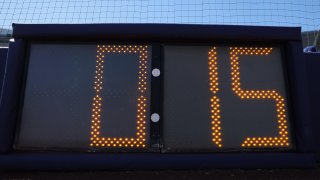 The Padres have had six weeks of Spring Training, including 30 Cactus League games, to get used to baseball's new rules. So, do they have a handle on everything now?
"On everything? No," says Padres manager Bob Melvin.
OK, that's not terribly encouraging. The change that's gotten the most attention is the pitch clock. Pitchers have 15 seconds to throw a pitch when nobody is on base and 20 seconds to deliver it with runners on. Batters must be ready and engaged with the pitcher by the 8 second mark. Any delays result in an automatic ball on the pitcher and strike on the hitter.
Dealing with the change in exhibition games is a good start. But, it's simply not the same as the regular season.
"Obviously intensity is ratcheted up, your routines and what you're used to are changed a little bit," says Melvin. "So, I'm glad we had a Spring Training to get used to it but do I think everything is natural yet? No."
Of course, that's on a case-by-case basis. Catchers are in a unique spot because they have to be conscious of the clock when they're hitting, and when they're calling the pitches. Luis Campusano says so far things have gone about as well as could be expected at the plate:
"I've always been quick to just get in and get things going. My tempo is a little faster than most. So, (I haven't noticed the clock) much."
And behind it:
"So far everyone's doing a good job of making sure they're aware of the clock so it's working well."
One of the major concerns fans have with the clock is taking the drama out of the game. Part of baseball's beauty is the pauses, the moments where intensity builds.
Josh Hader lives in those moments.
The Padres closer's job is to throw the game's highest-leverage pitches in the game's highest-leverage inning. He knows the way he goes about his business is going to change and looking at it with baseball's version of practical philosophy.
"I haven't been able to get into a save situation out in Spring Training because it's hard to do that," says Hader. "I think one of the biggest things is just being able to slow the game down. I mean, that's what we've always been taught, to slow it down and kind of go at your own pace. But, you just try and find out how to do that in 15 seconds. If the game speeds up on you, slow it down. Use time management and ultimately just continue to execute what you do. We're all athletes and have played this game long enough that we'll adjust to it and figure it out."
There's the bottom line in baseball's brave new world: the game is, and always has been, about making adjustments, from season to season, game to game, at-bat to at-bat. Hader, like all the San Diego hurlers, has been throwing bullpens with a clock throughout Spring Training to get used to a new cadence. By the time he's saving games in October, hopefully, we won't notice … or miss … the extra time.
LISTEN: With NBC 7 San Diego's Darnay Tripp and Derek Togerson behind the mic, On Friar will cover all things San Diego Padres. Interviews, analysis, behind-the-scenes...the ups, downs, and everything in between. Tap here to find On Friar wherever you listen to podcasts.