Peaceful demonstrators in support of women's rights and empowering citizens to vote flocked to downtown San Diego Saturday for the 2018 Women's March – one of the hundreds of events of this kind happening around the globe this weekend.
Dubbed the "Women's March San Diego: Hear Our Vote," the rally and 1.29-mile march started at 10 a.m. on the west side of Waterfront Park, making its way down Harbor Drive, then Pacific Highway, before ending at West Ash Street near Waterfront Park about three hours later.
2nd Annual San Diego Women's March
As thousands of participants descended on the streets of downtown San Diego, police issued a traffic alert around part of Harbor Drive that remained in effect through the end of the march. The police department later said the crowd was estimated at 37,000 people.
Aerial View of the 2018 Women's March San Diego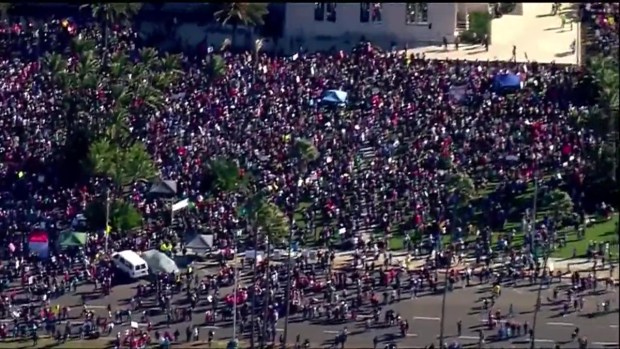 Signs in hand, the unified group moved along the waterfront.
"Girl Power," read one sign. "Fight Like a Girl," read another. "This Woman Votes," one woman's sign said.
"What do we want? Justice! When do we want it? Now!" some chanted as the march began.
Part of Harbor Dr is closed as thousands of people gather for the #SanDiego#WomensMarch2018pic.twitter.com/v0CWoVdLaq

— Ramon Galindo (@RamonGalindoNBC) January 20, 2018
According to the Women's March website, the demonstration was "designed to engage and empower voters to support women's rights, human rights, social and environmental justice, and to encourage participation in 2018 midterm elections." Participants were encouraged to march for their "voices and votes to be heard."
Local Donnie Smith, 60, was there to march in solidarity with the "Me Too" movement. She's a survivor of sexual harassment.
"I'm a victim. I'm part of the 'Me Too' movement. I'm a victim and it drives me nuts. It spins your life out of control," Smith said. "It changes who you're supposed to be when you're sexually harassed or molested or anything like that. It changes who you are because you lose something. You lose part of your soul."
San Diego resident Ana Crepes attended the march with her family. For her, the demonstration was about setting an example for her child.
"I'm motivated by my daughter. I want her to have a better life," Crepes told NBC 7. "I don't want her to go through the same struggles that I had, my sister had, my mother had."
"Women just need more of a voice and people are realizing that it's important for us to have a voice," marcher Lizz Dimaano said. "We don't want to be overpowered or victims. We want something more. We wanted to be treated equally."
The San Diego rally was attended by several local leaders, including San Diego City Attorney Mara Elliot and Assemblywoman Lorena Gonzalez-Fletcher, to name a couple of the familiar faces.
Elliot tweeted from the rally: "We're stronger than ever!"
A view from the stage at the 2018 Women's March in downtown San Diego. We're stronger than ever! pic.twitter.com/qKje22ntwA

— Mara Elliott (@MaraWElliott) January 20, 2018
Gonzalez-Flether tweeted photos of her family participating in the march and some of San Diego's elected women.
With just a few of San Diego's elected women! #WomensMarchSDpic.twitter.com/BzpFRwGnOn

— Lorena (@LorenaSGonzalez) January 20, 2018
"The best part of speaking at today's #WomensMarchSD was having my daughter next to me," the assemblywoman tweeted. "Last year she couldn't make it because she was waiting tables...and she reminded me to shout out to all the women who had to work today!"
The San Diego Labor Council also took part in the march, according to director of community engagement, Brissa Johnson.
"It's women coming out, in solidarity, to stand up for women's rights and women's issues and not only fight for equality but for equity as well," Johnson told NBC 7. "It's important for us to express our concerns and our voice and really bring that power back to the people."
Ahead of the march, Johnson said she expected to see a large, diverse crowd there, including many DREAMers, as well as those who support DACA recipients.
"This year has been so intense with everything that's happening with the current administration and things that are happening locally. And San Diego is a border town, so we've been really impacted by the legislation affecting our DREAMers and our community," Johnson said.
Smith told NBC 7 she wants to see a real shift in the U.S. government and, for her, it starts with voting.
"The only way that's going to happen is if we go out there and we vote for change," Smith added. "I'll be out here next year; I was out here last year. And I'm not going to give up. I hope to see a change in my lifetime."
Meanwhile, in San Diego's North County, a concurrent Women's March was planned for 10 a.m. at Palomar College. The 1.2-mile march spanned the south side of West Mission Road to San Marcos Middle School, then back on the north side of West Mission Road to Palomar College. A post-march rally followed.
The San Diego Police Department (SDPD) told NBC 7 that police had been planning, preparing and working with the organizers of the local event to ensure safety, as well as with the San Diego County Sheriff's Department, MTS and Harbor Police Department.
"This event last year was one of the nicest events all year," Lt. Scott Wahl said. "Everyone was very cooperative and even thankful for our assistance. We anticipate large crowds but realize this group is very respectful and law-bidding."
SDPD Chief Shelley Zimmerman tweeted photos from the demonstration and a message of thanks to participants: "Our officers appreciate and thank you for all the thank you's along the route."
We @SanDiegoPD will give a crowd estimate later. #WomensMarchSD#WomensMarch2018 Our officers appreciate and thank you for all the thank you's along the route. pic.twitter.com/T0sQso1xZe

— Shelley Zimmerman (@ChiefZimmerman) January 20, 2018
Last year's Women's March in downtown San Diego and North County drew tens of thousands of demonstrators, many of them carrying witty signs in support of the movement and resistance efforts.
Over the past year, the movement has shifted its focus from only resistance to bringing "power to the polls," Bob Bland, co-chair of the Women's March told NBC News.
"Moving into 2018, we need to look beyond just 'resistance,'" Bland added.
The Women's March took place on the anniversary of President Donald Trump's inauguration.