A 30-second wedding ceremony, bagpipes and unicycles are among the sights to see at this year's Ocean Beach Holiday Parade, trekking down the heart of the beachside community Saturday night.
The free 37th annual parade starts on "OB time," about 5 minutes after 5 p.m. in the business district at the intersection of Newport Avenue and Sunset Cliffs Boulevard. The route continues west down Newport until it reaches the OB Tree, a 30-foot Christmas tree planted in the sand on the beach at the end of the street.
The colorful procession includes floats, a fleet of classic cars, Celtic bagpipe performers, San Diego Roller Derby stars, marching bands and kids on unicycles, plus a cameo from Santa Claus.

But the quirkiest feature of this year's parade in the free-spirited OB community will be the quickie wedding of Ocean Beach native John Ambert, the Chair of the OB Planning Board.
Parade organizers say Ambert will be married to his fiancée in a 30-second ceremony as their float reaches the end of Newport Avenue near the OB Tree.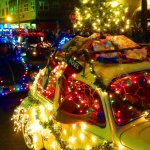 "Our parade is one of Ocean Beach's favorite holiday traditions," said Melyssa Roark, Community Relations Chair for the Ocean Beach Town Council, in a press release. "We are working hard to make this year's event our best one ever, and having a wedding ceremony incorporated into the parade only adds to the excitement."
This year's parade theme is "Year of the Pier with Holiday Cheer," a nod to the 50th anniversary of the centerpiece of Ocean Beach: the OB Pier, the longest pier in Southern California.
For a map of the parade route, click here.
Free or Cheap Things to Do in San Diego