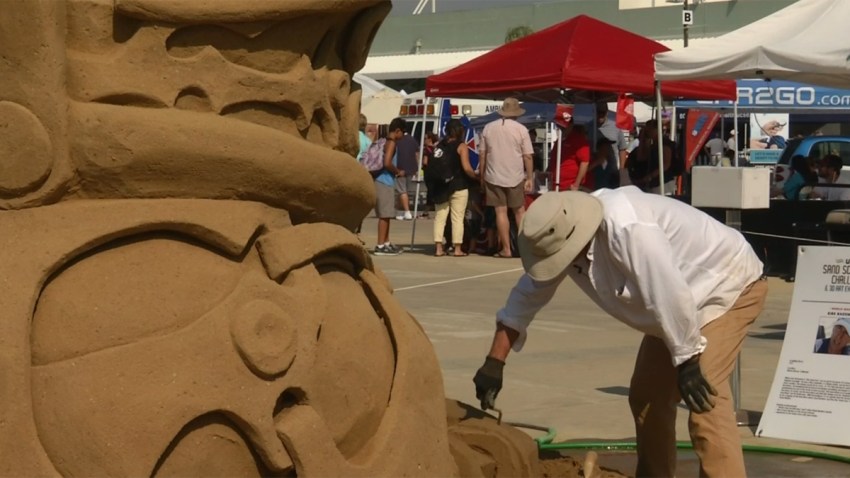 It's that time of the year again: that time when master sculptors from across the globe descend on San Diego for the ultimate sand carving challenge, meticulously etching masterpieces for all to enjoy.
The 2015 U.S. Sand Sculpting Challenge & 3D Art Expo will be held Friday through Labor Day on the B Street cruise ship terminal pier at 1140 North Harbor Dr., right along the Big Bay in downtown San Diego. Each day, visitors can check out the sand sculptures from 9 a.m. to 7 p.m., with special extended "twilight hours" from 7 p.m. to 9 p.m. Saturday.
Organizers have dropped 300 tons of sand into the area for sculptors to turn into incredibly detailed, elaborate works of art many of which, when finished, will weigh about 10 tons.
This year, the legendary Labor Day weekend event will feature 11 master sculptors carving their creations in front of crowds, all vying for a grand prize and bragging rights. The masters, who hail from all over the world, including Russia, Italy and the Netherlands to Canada, Florida, Washington and California, will begin carving Friday and finish their works around 2 p.m. Saturday.
Also getting their hands dirty will be nine teams of three pro sculptors carving Saturday afternoon through 2 p.m. Sunday.
By Monday, organizers say all of the sculptures will be finished and on display for visitors to admire.
The family-friendly event will also include more than 1,000 works of handmade art that can be purchased by attendees, plus live music, buskers, gourmet food trucks, a beer and wine garden and a sand box and rides for kids.
Tickets cost between $6 and $11 per person, depending on the day. There's also a pass available for all four days for $19. Toddlers in strollers get in free, while first responders, active duty military, seniors and kids 12 and under get discounted rates.
A portion of the proceeds from ticket sales will support arts education programs for children, including the San Diego School of Creative and Performing Arts and the Maritime Museum of San Diego Education Programs.
For complete details on the U.S. Sand Sculpting Challenge, visit the event website.