Professional sand sculptors from all over the world will compete in San Diego this Labor Day weekend, carefully carving sand and meticulously making masterpieces for all to enjoy.
The U.S. Sand Sculpting Challenge & 3D Art Expo will be held Friday through Monday on B Street Pier at 1140 N. Harbor Drive. Organizers say artists will create 23 elaborate sculptures out of sand for a shot to win a $60,000 grand prize and, of course, serious bragging rights.
One of the sculptors going for the big win is John Gowdy, a retired firefighter originally from Atlantic City, New Jersey, but now living in Italy.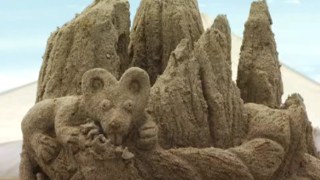 U.S. Sand Sculpting Competition Over Labor Day in San Diego
Gowdy said he traveled to San Diego to partake in some friendly competition and showcase his work. He spends his retired days traveling and carving sand on the beaches of the world.
"I'm here to have fun. We've got the best in the world here, the best sand sculptures here. We're all friends while we create art," he told NBC 7.
Gowdy said his sculpture will depict an action-packed lifeguard rescue scene, complete with lifeguards cutting through a wave on a boat while saving a swimmer.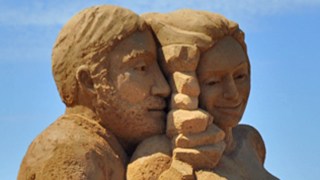 Sandcastle Faves Win People's Choice Award
Although master sand sculptors like Gowdy may make the art form look easy, it's anything but a day on the beach.
Gowdy said the craft is a "mixture of sport and art," which can get strenuous at times, especially when trying to mix the perfect combination of sand and water and packing the sand tightly enough to carve.
"Compaction. That's what it's all about. Compaction and practice," said Gowdy.
Dan Gutowski, a local artist from Imperial Beach, is also participating in the event. He'll be helping Foster Farms with their company sculpture, an interactive installation featuring a couple of "crazy chickens."
Though confident in his sand skills, Gutowski knows he's going head-to-head with the best of the best.
"There are going to be the most amazing sculptures here this weekend," he said.
Event organizers expect approximately 50,000 visitors to pass through the Sand Sculpting Challenge throughout the long weekend. The event, which also supports kids' arts education charities, will include live entertainment, kids' rides and activities, 12 gourmet food trucks and a beer and wine garden.
Additional contestants hail from all over the globe, including Washington, Key West, Canada, Singapore, Italy, the Netherlands and Latvia – the home country of Sandis Kondrats, last year's grand prize winner and reigning champ.
Tickets to the competition cost $10 for adults and $7 for kids and seniors. All active-duty military with an I.D. get in free with up to three family members. The event runs from 9 a.m. to 7 p.m. daily.
For more information, including the daily schedule, visit the event website.