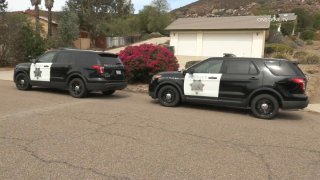 A child's mother and the woman's boyfriend have been arrested after the 2-year-old girl was shot in the leg at their home in Ramona over the weekend, the San Diego County Sheriff's Department said Monday.
Victoria Tejeda, 20, and her boyfriend Roman Estrada, 18, were arrested on charges of child endangerment. Estrada also faces a charge of negligent discharge of a firearm for allegedly firing the weapon that wounded the 2-year-old girl in the leg.
Deputies were first called to Sharp Rees-Stealy Medical Group in Santee Sunday afternoon after the child's mother drove her to the hospital for treatment, SDSO Lt. Chris Galve said.
The child's injuries were not believed to be life-threatening, SDSO said.
Deputies learned the child was shot at a home on Sargeant Road in Ramona and an investigation was launched, SDSO said.
Estrada was showing an illegally possessed, loaded gun to Tejada and Tejada's older brother when he accidentally pulled the trigger, according to deputies.
They took the child to a clinic in Ramona but it was closed, then they headed to Sharp Rees-Stealy in Santee. There, Tejada hid the loaded gun in bushes outside of the hospital, according to SDSO.
Estrada was arrested and booked into San Diego Central Jail on charges of child neglect, child endangerment and negligently discharging a firearm.  
Tejeda was arrested and booked into the Las Colinas Detention and Reentry Facility on child neglect and child endangerment charges. She has been released after posting $100,000 bail.
The injured child is under the care of Child Protective Services and is expected to make a full recovery.
SDSO is not looking for any other suspects.