The San Diego County Board of Supervisors extended the local health emergency declaration for another two weeks once again Tuesday.
Nineteen people have died, and 516 cases have been confirmed through Oct. 19, according to county officials. Of those cases, there have been 357 hospitalizations.
County officials announced that the local health emergency declared on Sept. 1 will remain in effect for another two weeks, while they work to get a handle on the outbreak. The board is required to review the declaration every 14 days.
As of now, nearly 84,000 Hepatitis A vaccinations have been given out to the public, said county officials. That includes 70,748 to the at-risk population, such as homeless people, illicit drug users, people with chronic liver disease, law enforcement and emergency personnel among others.
The Centers for Disease Control and Prevention (CDC) presented the board with a letter that recommended against testing the San Diego River, or any body of water, for waterborne Hepatitis A virus, said county officials.
In over 30 years, there has not been a documented case of waterborne Hepatitis A during an outbreak like the one in San Diego, stated the CDC letter.
"There is no evidence that either water or environmental sampling provides additional information for addressing person-to-person HAV transmission," John Ward said, the CDC director of viral hepatitis, in the letter.
"Thus, investing in these activities would unnecessarily divert resources that are needed to contain the outbreak in proven and effective ways (vaccination, education, restrooms and hand hygiene practices)," added Ward.

County officials have said they will keep working to provide the public with vaccinations, sanitation and education.
A third of the cases involved people who used illicit drugs and are considered homeless. Of the cases, 25 percent are neither homeless or drug users.
The City of San Diego has installed new bathrooms in the East Village to help curb the spread of the virus. That area has a high concentration of transients. Those restroom facilities will be maintained at least twice a day, and will be monitored by full-time security, the city said.
There are currently 22 public restroom facilities in downtown San Diego, as listed here.
City crews have also sanitized sidewalks in the downtown area and installed hand-washing stations.
Currently, there are 99 handwashing stations around the county, said county officials. The majority are located in the City of San Diego.
County health officials have also notified 14,000 food facilities in the area as well as agricultural growers and public pools. An extensive education campaign is underway with food handlers and restaurants.
More than 6,400 hygiene kits were handed out to the at-risk population, said county officials. Those kits included hand sanitizer, cleansing wipes, bottled water, a waste bag and information pamphlets on Hepatitis A prevention.
Due to the ongoing outbreak, health officials have also encouraged food handlers and people who work with the homeless to get vaccinated.
Hepatitis A is a liver infection caused by a virus that is highly contagious. The Hepatitis A virus can be contracted by touching objects or eating food that someone with the Hepatitis A infection has handled or by having sex with someone who has contracted the virus.
Some people get the virus but have no symptoms. Signs of infection include fever, fatigue, nausea, loss of appetite, yellowing of the eyes (jaundice), stomach pain, vomiting, dark urine, pale stools, and diarrhea. Adults are more likely to have symptoms than children.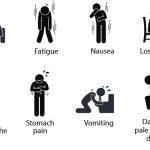 The California Department of Public Health suggests anyone who has been exposed to the virus, and who has not been previously immunized for Hepatitis A, should consider getting vaccinated no later than two weeks after exposure.
Click here to see a timeline of San Diego County's Hepatitis A Outbreak.
For more information, go to the county's website.