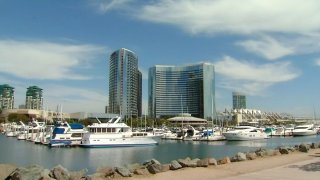 The summer heat has San Diegans looking for ways to cool off. If that includes you, one classic solution is taking a quick dive into a local pool. If you don't have one of your own, no problem. We compiled a list of 15 local hotel pools throughout San Diego County that sell day passes for $50 or less, some with tickets as low as $15.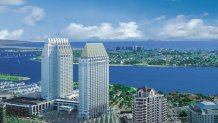 Manchester Grand Hyatt San Diego
This hotel sells half-day passes from 3 to 8 p.m. starting at $12. The Manchester Grand Hyatt includes family-friendly pools as well as an adult-only pool. There's a full-day pass available for $20 with the same amenities as the half-day. In addition to the pool, the day pass gives access to wifi, basketball and volleyball courts, a fitness center and more. For more information on the day pass, click here.
InterContinental San Diego
This day pass would score you a 4th-floor rooftop pool day. Guests receive access to the fitness center, wifi, an open firepit and a heated pool. For more information on how to get a day pass visit this website.
DoubleTree by Hilton Hotel San Diego - Del Mar
At the Del Mar DoubleTree day pass, guests will receive a cookie and a bottle of water when checking in and then will be escorted over to the pool area. This day pass includes a heated pool, children's pool and wifi. To buy a pass, click here.
Paradise Point Resort & Spa
With this day pass, guests are granted access to five different pools. These pools include an adult-only, lagoon, meadow, main and waterfall. The Paradise Point Resort and Spa has access to 14 miles of bike and walking paths in addition to tennis, basketball and mini-golf activities. Along with the day pass, visitors will be granted a 15% discount on food and non-alcoholic beverages at the resort's restaurants. Click here for more information.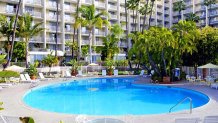 Town and Country San Diego
Town and Country Resort has three outdoor pools, a hot tub, the "twister" waterslide perfect for some family fun, wifi and poolside food and beverage services. This is a good spot for weekdays, as some weekend day passes may be over $50. For more on poolside upgrades, visit the website here.
Rancho Bernardo Inn
Rancho Bernardo Inn is a more inland getaway within San Diego County. The day pass gives access to an adult pool, a family pool, a fitness center, wifi and more.
Andaz San Diego
Andaz day passes are an experience for guests 21 and up. With this, you get access to a rooftop pool in Downtown San Diego, food and drink service from their rooftop restaurant and wifi. For more information on the rooftop views click here.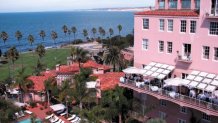 DoubleTree by Hilton San Diego - Hotel Circle
The Hotel Circle DoubleTree has a heated pool, wifi, parking and snacks for purchase. This pool is surrounded by palm trees and other greenery giving it a very relaxing jungle feel. For more information, visit the website here.
Hyatt Regency La Jolla at Aventine
The Hyatt Regency La Jolla gives access to an outdoor heated pool, a whirlpool hot tub, poolside service for drinks and food from their restaurant, a fitness center, fire pits and more. Visit the website here to see the full setup as well as additional upgrades from the baseline day pass, such as a cabana.
Hyatt Regency Mission Bay Spa & Marina
The Hyatt Regency Mission Bay has three waterslides and three outdoor heated pools. With the purchase of a day pass guests would also receive a 20% discount on rentals from the Mission Bay Sportscenter for all things watersports, including stand-up paddleboards, kayaks, jet skis and more. An important note, if you're planning on bringing the whole family, there is a height requirement of 42" for the two big waterslides, but the smaller one has no height requirement. For more information on booking a day pass, click here.
Note: All of the prices are subject to change due to demand for a spot on any given day due to the third-party Resort Pass that the day passes are sold on.