A full rescue team tested out a new, high tech signage system on the Climbers Loop trail Thursday morning, using a helicopter to save a victim placed on the dangerous trail.
The drill on the Mission Trails Regional Park trail involved ground and helicopter crews from the San Diego Fire-Rescue Department.
Park rangers portrayed injured hikers, and were lifted from the trail with the helicopter.
Rescue crews located the rangers using the trail's new Locator Signs. The signs provide injured or lost hikers with unique coordinates to give to 911 dispatchers. Rangers installed 11 signs (left)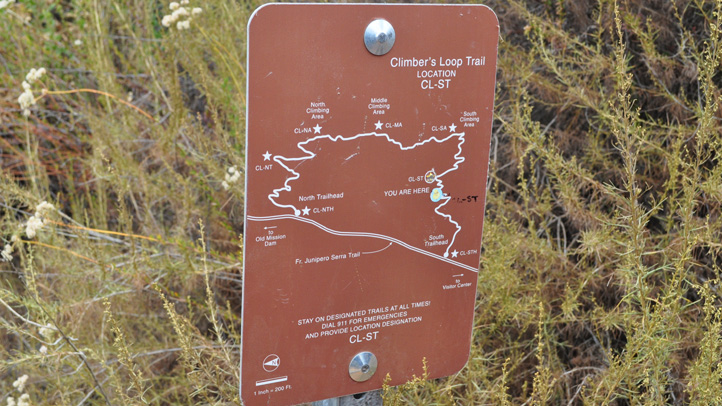 on Climbers loop and plan to place more on other trails in the area.
Fire-Rescue crews will then use GPS to gain turn-by-turn directions to the victim.
Rescuers responded to injured hikers on Mission Trails Regional Park trails 41 times in the past year. With the new signs placed along the trails, rescue efforts will take 30 minutes less than usual, said San Diego Battalion Chief Ben Castro.
Castro added that rescue efforts are usually complicated by lost or injured hikers giving vague or unreliable information to 911 dispatchers.
With the new signs, hikers will ideally remember the four-character coordinate and report it to the dispatchers. Yet the signs are not entirely perfect, Castro said.
Hikers on the trails agree, and say although the system is a step in the right direction, it may be the last thing they think of when lost or injured on the trail.
Castro will be giving feedback to park rangers on how to improve the signage system on other trails.