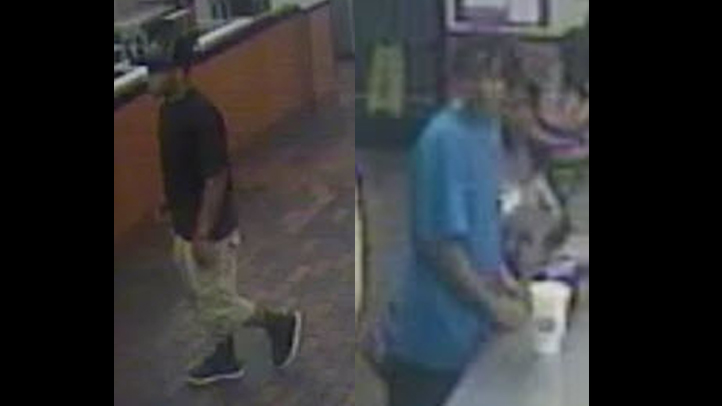 San Diego Crime Stoppers are offering a reward for any information leading to the arrest of two suspects who snatched a woman's purse and used her credit cards Thursday evening.
The incident began outside the Haji Baba Café at 801 C Street in downtown San Diego when a woman's purse was stolen by the two suspects at about 8 p.m., according to officials.
One suspect reportedly reached onto the patio where the woman was sitting and snatched her purse before fleeing the scene with the other man.
Officials said the pair was headed toward the 1000 block of Broadway, with a group of young males and females, before disappearing.
Later in the night the two men were spotted on surveillance cameras at both a Jack in the Box and McDonald's restaurant near City College, according to a media release.
The two allegedly used the victim's credits cards at both locations.
The suspects are described as being 18 to 20-years-old and 5 foot 6 to 6 foot 2 tall.
Crime Stoppers is offering a $1000 reward in the case. Anyone with information is asked to contact them via email or text message at www.sdcrimestoppers.com or by calling (888) 580-8477