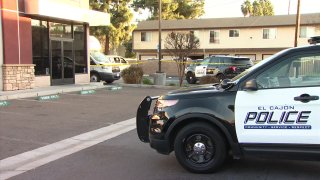 The El Cajon Police Department (ECPD) is investigating a shooting that led police on a pursuit that ended near El Cajon on Wednesday afternoon.
The shooting was reported at around 2:51 p.m. when the victim was approached by three male suspects in their early 20s. At some point, one of the suspects shot the victim at least once before fleeing the scene with the two other suspects in a white Volkswagen, investigators said.
The suspect's vehicle was spotted by officers a short time later and a pursuit followed. The pursuit ended after the suspect collided with another vehicle at Pepper Drive and North Mollison Avenue, police said.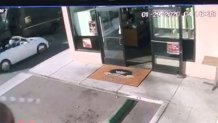 The suspect then ran and tried to take an unoccupied police vehicle, but was arrested before he was able to take control of the car, police said.
The people in the car that the suspect crashed into were not injured.
The shooting victim, in his early 20s, was transferred to a local hospital with one gunshot wound, ECPD said.
The other two suspects were not in the car when the pursuit started and remain at large.
Anyone with information can contact the El Cajon Police Department at (619) 579-3311 or San Diego Crime Stoppers at (888) 580-8477 or online.
The investigation is ongoing.
Police have closed Pepper Drive and North Mollison Avenue until further notice. They urge the public to avoid the area and use an alternative route.
No other information was available.
Please refresh this page for updates on this story. Details may change as more information becomes available.