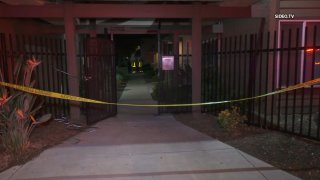 El Cajon police are saying a man died in a fire overnight Tuesday in that city during what they believe to be a "domestic incident."
An apartment unit in a structure on the 300 block of North Mollison Avenue was engulfed in flames around 12:30 a.m. Tuesday, according to the Heartland Fire Department. Neighbors recalled being woken up by the sound of fire trucks early in the morning.
Crews from El Cajon, Lakeside and Santee were able to knock down the blaze in about a half-hour, according to Heartland Fire & Rescue. Unfortunately, one man was injured in the fire. Investigators believe he had threatened suicide and set the apartment on fire.
The man was taken to Sharp Grossmont Hospital, where he later died of his injuries. Authorities have not yet identified him.
Police said the other occupants of the residence were able to flee the apartment unharmed.
It is unclear how many people were displaced by the fire.