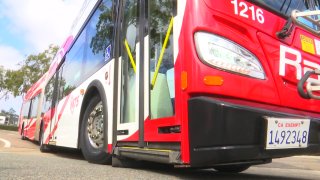 A driver died after crossing into oncoming traffic and hitting an MTS bus head-on Thursday in University Heights, according to San Diego police.
The collision involved an MTS bus and a Chevy Malibu on Texas Street south of Madison Avenue, SDPD Officer Darius Jamsetjee said.
The Malibu was headed northbound on Texas when it crossed into southbound lanes and hit the bus, SDPD Officer Robert Heim said.
The 60-year-old man driving the Malibu, identified on Wednesday as Howard David Kritzer, died at Scripps Mercy Hospital.
A 59-year-old bus passenger was treated for a head contusion, Heims said.
SDPD Traffic Division is investigating the crash.
Check back for updates on this developing story.