A 16-year-old boy was killed and seven others were hospitalized early Wednesday in Carlsbad after a rollover crash shut down a street for several hours.
Carlsbad police said a total of eight teens were in a Toyota 4Runner SUV when, for reasons still under investigation, the driver lost control of the vehicle. The SUV rolled over several times before it came to a stop near Carlsbad Village Drive just before 2:30 a.m.
Jack Munday, 16, later died of injuries suffered in the crash, NBC 7 learned on Wednesday afternoon. Munday, a one-time student at Carlsbad High School, transferred last year to Coastal Academy High School, in Oceanside.
"This is devastating that's all I can say, he was such a great kid, a good soul," said Munday's former baseball coach, Terry Farruk. "I'm just not doing well with this news...When you have a 16-year-old and you are a parent, it's very hard to go through this because he's one of our own."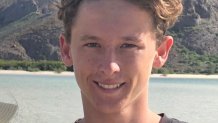 Five of the injured teens, including Munday, were brought from the crash scene to area hospitals for treatment. The three other teens who were in the Toyota fled the area and were found about a block away near the intersection of Carlsbad Village and Pio Pico drives. They, too, were hospitalized.
The severity of the injuries varied, according to police, who believed that at least one person may have been in the trunk of the SUV.
All of the vehicle's occupants were 16- to 18-year-olds, authorities said. Alcohol does not appear to be a factor in the crash, Carlsbad police said.
As a result of the investigation, Carlsbad Village Drive was closed in both directions from Highland Drive and Monroe Street until further notice. It has since reopened.
The family has put together a GoFund Me page to help out with funeral expenses.