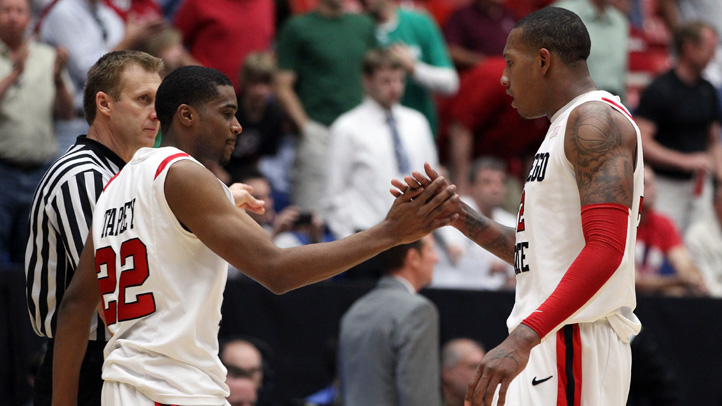 Aztecs forward Malcolm Thomas played in last year's NCAA Tournament, when San Diego State nearly pulled off a first round upset of Tennessee. This year SDSU was heavily favored to win its first game against Northern Colorado. For the first 20 minutes, it was hard to tell which team was better. Apparently butterflies were to blame.

"I feel like all the nerves are out, getting that win out of our system," said Thomas.

Good, because the program's 2nd NCAA Tournament win will have to come against a gritty group from Temple. Any team from Philadelphia is going to play hard, and play together.

"I don't know what kind of teams they're used to playing," said Owls guard Juan Fernandez, "but we like to share the ball and find the open man, not just play for one guy."

Temple preaches patience. They'll hold the ball and make extra passes to find the best shot possible, usually from a trio of very talented guards. San Diego State will have to take advantage of its diversity. The Aztecs' first option is the big front line of Thomas, Kawhi Leonard and Billy White. But all three are good passers, and have no problem sending the ball out to D.J. Gay, Chase Tapley and James Rahon at the 3-point line.

"And if we find open gaps," said Gay, "that's what we're going to look for and have the opportunity to take and make shots."

The Aztecs' recipe for success this season has been stealing a page from Temple's book and economizing its 3-point attempts. When they take fewer shots from long range, they end up making more. That means more points, and with their stellar defense, that's equated to a win 33 times.