A Caltrans contractor died after a suspected DUI driver rolled his car off a ramp in Escondido Monday, California Highway Patrol officials say.
Reginald Grigsby, 31, was driving his Mitsubishi Montero south on Centre City Parkway when he started to steer toward southbound Interstate 15.
However, officials say he veered to the left and rolled his car down an embankment, landing on the northbound center divide.
As it overturned, the vehicle hit Leonardo Sandoval, 21, of Murrieta, who was repairing sprinklers on the roadside.
Sandoval was killed instantly, officials say.
Grigsby was taken to Palomar Hospital with minor injuries, and he has since been arrested on suspicion of felony driving under the influence of drugs and felony vehicle manslaughter.
He was booked into the Vista Detention Facility Monday evening.
Sandoval was a sub-contractor from the Pacific Restoration Group, hired by Caltrans to landscape portions of the 15 freeway. His boss described him as an "awesome kid."
His family told NBC 7 he was engaged to be married next spring and had a 1-year-old son.
They say he loved music and would play his guitar while singing to his son every night after work. They never thought that music would come to such a sudden stop.
"This is a stark reminder of the dangers of working along the highway. I am asking motorists to limit distractions and drive with care, especially when highway workers are present," said Caltrans District Director Laurie Berman in a statement.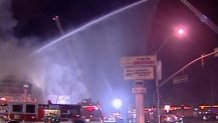 Grigsby, a former San Diego State football player, has a history with law enforcement. In 2009, he went to his parents' house and attacked his mother, choking her until she passed out, prosecutors said.
His father, who was an Oceanside police captain at the time, shot his own son to stop him. Investigators said Grigsby has struggles with mental health problems.